The Civil Service Since 1945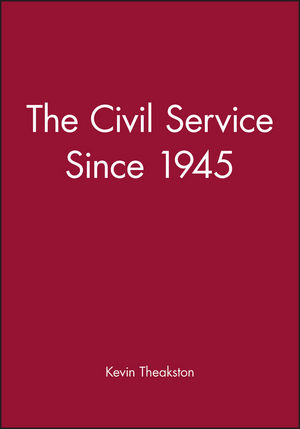 The Civil Service Since 1945
ISBN: 978-0-631-18825-4 January 1991 Wiley-Blackwell 216 Pages
Description
This book provides a succinct overview of the development of the civil service since the Second World War. Adopting a broad, historical approach, it assesses the changes in organization, structure and management of the Whitehall machine, alongside the continuities in the policy and practice of public administration. Kevin Theakston draws on the full range of recent scholarship, documents in the Public Record Office, and the many postwar offical investigations and reports to provide a balanced analysis of the key themes and issues. The book will be welcomed by all interested in the development of public policy and administrations, and post-war British politics in general.
Table of contents
1. Ministers and the Mandarins.
2. The Topmost Mandarins.
3. Business as Usual: The Civil Service in the 1940s and 1950s.
4. Reforming the Machine: Whitehall in the 1960s and 1970s.
5. The Civil Service at the Crossroads: Thatcher, Major and Whitehall since 1979.
6. Whitehall Accountability and Control.
7. Conclusion.
Reviews
"The Institute claims that each book in the series is written by an expert in the field who has the task of putting the topic's central themes into clear focus. This volume by Kevin Theakston, Senior Lecturer in Politics at the University of Leeds, certainly fulfils that mission, and it can be recommended both as a student text and as an overview for the general reader. Each chapter helpfully covers a theme rather than a particular time period. The book is based on a wide variety of largely documentary sources and is well-referenced. It adopts a neutral, descriptive tone, but is not afraid of drawing conclusions, nor of challenging accepted wisdom. Insiders will find it displays a genuine understanding of the way the civil service works and what motivates it. Outsiders will find it revealing without being dramatic. It recognises the importance of people, and of changing generations, as well as of institutions." Pamela Meadows, Policy Studies
Features
* Provides historical background and context for students on one of key topics in contemporary history and politics courses.
* Examines links between public policy and the personalities involved.
* Draws on a range of primary documents and most recent scholarship.