The Civil Service Today, 2nd Edition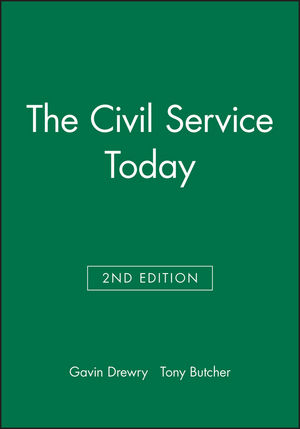 The Civil Service Today, 2nd Edition
ISBN: 978-0-631-18172-9
Apr 1992, Wiley-Blackwell
296 pages
Description
In this revised and enlarged edition of their established textbook, Gavin Drewry and Tony Butcher bring their wide-ranging, critical survey of the Britsh civil service fully up-to-date, concluding with an examination of the nature and significance of the 'Next Steps' programme which is currently transforming the structure and management of the civil service.
Contents.
Acknowledgements.
Prologue: Some Crises of the 1980s.
1. Charting the Territory.
2. How Things Came to Be.
3. Some Facts and Figures.
4. The Universal Department.
5. Recruitment and Training.
6. Conditions of Service.
7. The Working Context.
8. Ministers and Civil Servants.
9. The Public Face of Private Government.
10. Slimmer and Fitter: the Quest for Efficiency and Effectiveness.
11. The Civil Service at the Crossroads?.
12. The 'Next Steps' Programme.
Notes.
Select Bibliography.
Index.
"Drewry and Butcher have written an invaluable guide to the civil service ... Teachers will be profoundly grateful for the thorough descriptive heart of the book."
Parliamentary Affairs
"An excellent textbook." Public Administration
"An up-to-date textbook (which) provides a commentary of recent developments, and on the issues arising from them, that is balanced, acute and succinct." The Times Literary Supplement
No other textbook on the civil service is as comprehensive and wide-ranging
Established textbook, now revised, enlarged and updated
The first edition was widely and very well reviewed.