The Classroom Teacher's Survival Guide: Practical Strategies, Management Techniques and Reproducibles for New and Experienced Teachers, 3rd Edition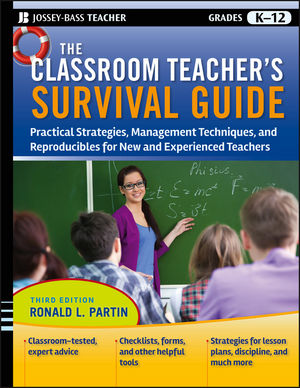 The Classroom Teacher's Survival Guide: Practical Strategies, Management Techniques and Reproducibles for New and Experienced Teachers, 3rd Edition
ISBN: 978-0-470-45364-3
Oct 2009, Jossey-Bass
384 pages
Description
An updated edition of the best-selling book for teacher success in the classroom
Designed for new and experienced teachers alike, this thoroughly revised and updated edition offers a value-packed, practical source of ready-to-use tips and strategies for meeting the challenges teachers face everyday while organizing and managing a classroom. The third edition includes entirely new sections on teaching English language learners, inquiry-based learning, building positive teacher-student relationships, wrapping up the school year, and much more. The book also features many new forms, pre-written letters, checklists, and reproducibles, along with bonus forms and reproducibles that are available for free download from the web.
Includes tools and techniques proven to help teachers succeed in the classroom
Contains new sections on teaching English language learners, teacher-student relationships, inquiry-based learning, and more
Many handy reproducible forms, handouts, and checklists
Includes access to free downloadable bonus material on the web, including pre-written letters, reproducible forms, and worksheets
FOREWORD (STEPHEN G. BARKLE).
ABOUT THE AUTHOR.
ACKNOWLEDGMENTS.
I. THE BASIC TEACHER TOOLKIT
1. CREATING A SUPPORTIVE LEARNING ENVIRONMENT FROM DAY ONE.
2. NURTURING POSITIVE STUDENT BEHAVIOR.
3. TIME MANAGEMENT AND ORGANIZATIONAL STRATEGIES.
II. ESSENTIALS FOR EFFECTIVE TEACHING AND LEARNING.
4. CREATING SUCCESSFUL LESSONS.
5. INTERACTIVE TEACHING AND LEARNING STRATEGIES.  
6. ASSESSMENT AND TESTING TOOLS.  
III. STRIVING FOR EXCELLENCE.
7. BUILDING A LEARNING COMMUNITY.  
8. STAYING ON TOP OF YOUR GAME.
9. HELPFUL RESOURCES FOR TEACHERS.