The Co-Teaching Book of Lists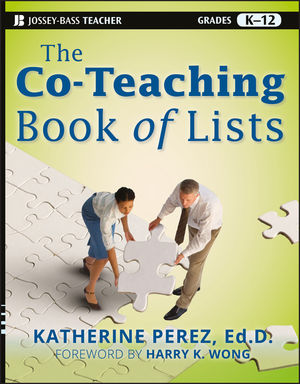 The Co-Teaching Book of Lists
ISBN: 978-1-118-23610-9 May 2012 Jossey-Bass 288 Pages
Description
Practical strategies for teachers who share classroom teaching responsibilities
Filled with down-to-earth ideas, suggestions, strategies, and techniques, The Co-Teaching Book of Lists provides educators with a hands-on resource for making the co-teaching experience a success. Written by educator and popular teacher trainer Kathy Perez, this book gives educators a classroom-tested and user-friendly reference for the co-taught classroom.
Topics covered include: roles and responsibilities; setting up the classroom; establishing classroom climate; effective accommodations and modifications for students; goal-setting; negotiating conflicts; scheduling issues; and more.
Author Katherine Perez is a popular presenter and workshop leader for Bureau of Education and Research and Staff Development for Educators
Offers best practices and helpful strategies for making co-teaching a success
Includes a wealth of ideas that are both practical and easy to implement
This easily accessible reference presents numerous positive and ready-to-use tips, strategies, and resources for collaborative teaching and student success.
Table of contents
About the Author xi
Acknowledgments xii
Foreword by Harry K. Wong xiii
Preface xv
Introduction 1
Chapter 1 Co-Teaching in a Nutshell
1.1 Characteristics of Co-Teaching 3
1.2 What Co-Teaching Is 3
1.3 What Co-Teaching Is Not 4
1.4 Framework for Co-Teaching 5
1.5 How Co-Teaching Benefits Teachers 6
1.6 Advantages for the General Education Teacher 7
1.7 Advantages for the Special Education Teacher 8
1.8 Advantages of Co-Teaching for Students 8
1.9 Advantages for the General Education Student 9
1.10 Advantages for the Special Education Student 9
1.11 Considerations for Starting a New Co-Teaching Initiative 10
1.12 Where Does Co-Teaching Take Place? 10
1.13 Terms Co-Teachers Need to Know 11
1.14 Opening Assumptions for Co-Teaching 13
1.15 A Co-Teaching Anticipation Guide 13
1.16 The Beginning Stages of Co-Teaching 14
Chapter 2 Co-Teaching Models
2.1 One Teach, One Observe 17
2.2 One Teach, One Drift 18
2.3 One Teach, One Assist or Support 19
2.4 Team Teaching 20
2.5 Station Teaching 21
2.6 Parallel Teaching 23
2.7 Alternative Teaching 25
2.8 Skill Group Teaching 27
2.9 Speak and Add Model 27
2.10 Duet Teaching 28
2.11 Adapting Curriculum Approach 29
2.12 Learning Styles Approach 30
2.13 Checking in: Applying the Approaches 31
2.14 Co-Teaching Approaches: An Action Plan 32
2.15 Applying the Models: Develop and Do 33
Chapter 3 Where Do You Start?
3.1 First Steps for Beginning the Co-Teaching Experience 35
3.2 Second Steps 36
3.3 Preparing for Co-Teaching: A Checklist to Review 38
3.4 Preparing to Teach Together 41
3.5 Co-Teaching Planning Pointers 43
3.6 Ongoing Implementation 45
3.7 Co-Planning Tips and Tricks 45
3.8 Maximizing Lesson Planning Time 46
3.9 Co-Teaching Weekly Planning Guide 47
3.10 Practical Planning Pointers 48
3.11 Planning a Co-Taught Unit 49
3.12 Co-Teaching Planning Form 49
3.13 Reviewing the Co-Planning Process 50
3.14 Co-Teaching Roles and Responsibilities 51
3.15 Determining Roles and Responsibilities 52
3.16 Role Clarity 54
3.17 Sample Co-Teaching Duties 55
3.18 Introducing the Co-Teaching Team 57
3.19 Who Does What in a Co-Taught Classroom? 58
3.20 Communication Issues and Co-Teaching 61
3.21 Conversation Starters 62
3.22 Communication Tips and Techniques 64
3.23 Collaboration Is the Key 65
3.24 Ways to Ease in a Special Educator as a Partner in the Classroom 65
3.25 A Blueprint for Collaborative Teaching 66
Chapter 4 Where Do You Go? A Co-Teaching Road Map
4.1 Scheduling Considerations for Co-Teaching 68
4.2 Effective Methods for Placing Students in a Co-Taught Classroom 70
4.3 Finding Time to Plan 71
4.4 Co-Teaching Daily Lesson Plans 72
4.5 Expanding Planning Time for Co-Teaching 73
4.6 Using Planning Time Effectively 74
4.7 Application: Putting Planning into Action 75
4.8 Co-Planning Agenda Tips 76
4.9 Procedures and Routines 77
4.10 Scheduling Co-Teaching 79
Chapter 5 Collaboration: Working as a Team
5.1 What Is a Team? 81
5.2 Characteristics of Co-Teaching Teams 82
5.3 Forming an Effective Co-Teaching Team 83
5.4 Ingredients of Excellence for Your Co-Teaching Teams 84
5.5 Relationship Building Blocks 85
5.6 Team Preparation: What Do I Bring? 86
5.7 Team-Building Personality Preferences 87
5.8 Personality Style Activity 89
5.9 Co-Teaching Conversations 90
5.10 Co-Teaching Decision Making 93
5.11 Potential Challenges 94
5.12 Overcoming Roadblocks: Solutions 96
5.13 Dealing with Conflict 97
5.14 Steps to Take 99
5.15 Communication and Accountability Tools 100
5.16 Checking In: How Is Our Co-Teaching Going? 101
5.17 Collaborative Problem-Solving Worksheet 102
Chapter 6 Organizing and Planning for Success
6.1 Celebrating All Learners: Strategies for Success 104
6.2 Helpful Online Resources 106
6.3 Physical Organization 107
6.4 Strategies for Flexible Grouping 108
6.5 Small-Group Strategies 109
6.6 Working Together for Small-Group Success 110
6.7 Advantages of Small-Group Instruction 112
6.8 Small-Group Planning 113
6.9 Points to Ponder: Large-Group Instruction 114
6.10 Planning for Large-Group Instruction 115
6.11 Independent Student Work 116
6.12 Goal Setting: Keeping Score 118
6.13 Choices, Not Chance, in Your Curriculum 119
6.14 Procedures and Routines 119
6.15 Co-Teaching Conversations 120
6.16 Routines That Are Important for Co-Teachers to Share 120
6.17 Looking at Your Classroom from a Student's Perspective 121
6.18 Additional Procedure Pointers 122
6.19 Supporting Student Behavior 123
6.20 Classroom Rules That Work 124
6.21 Behavior Intervention Worksheet 125
6.22 Student Survey 127
6.23 How Are You Smart? Multiple Intelligences Survey 128
Chapter 7 Schoolwide Organization: Administrative Issues
7.1 Schoolwide Issues 132
7.2 Barriers to Successful Co-Teaching 133
7.3 Professional Development Issues 134
7.4 Scheduling Issues 135
7.5 Effective Methods for Placing Students 136
7.6 Techniques for Classroom Caseloads 137
7.7 Guiding Principles 138
7.8 Student Study Teams: A Pre-Referral Strategy 138
7.9 Student Study Team Guidelines 139
7.10 Roles and Responsibilities of Team Members 140
7.11 How Administrators Can Support Co-Teaching 143
7.12 Other Ways Administrators Can Support the Co-Teaching Team 144
7.13 Observing Co-Teachers 144
7.14 Providing Feedback 145
7.15 Co-Teaching Observation Form 146
Chapter 8 Accommodations and Modifications That Make a Difference
8.1 What Are Accommodations, Modifications, and Interventions? 148
8.2 Modification Versus Differential Standard 149
8.3 Accommodations and Modifications Log 151
8.4 Accommodations or Modifications? 153
8.5 Adapting Instruction Flow Chart 154
8.6 Planning Guide to Curriculum Modifications 155
8.7 Modifications ''On the Move'' 156
8.8 Co-Teacher Communication Cards 157
8.9 Checklist of Accommodations and Modifications 158
8.10 Focus on Curriculum Adaptations 161
8.11 Adaptation Application Activity 163
8.12 Strategies for Supporting Students with Special Needs in the General Education Classroom 165
8.13 A Closer Look at Special Needs Challenges and Choices for Co-Teaching 170
8.14 I Have a Student Who...: What to Do? 172
8.15 Modifications Based on Students' Learning Styles 177
8.16 Adaptations and Modifications Chart 178
8.17 Class List: Adaptation Chart and Learning Profile 181
8.18 Evaluation Process in a Co-Taught Classroom 183
8.19 Accommodations for Testing in a Co-Taught Classroom 184
8.20 Revising Grading Procedures 186
Chapter 9 Instructional Strategies for Different Types of Learners
9.1 Getting Started with Strategies That Make a Difference 188
9.2 Engaging Strategies for Co-Teaching 189
9.3 Your Multiple Intelligences Toolkit 191
9.4 Product Possibilities 195
9.5 Think-Tac-Toe Choice Menus of Activities 196
9.6 Think-Tac-Toe Activity Board 197
9.7 Vocabulary Bingo 198
9.8 Book Report Activity Board 199
9.9 Cubing 200
9.10 Cubing in the Content Areas 201
9.11 ''Let 'em Roll'': Cubing Task Cards 203
9.12 Bloom's Building Blocks 204
9.13 Cubing Pattern 206
9.14 Cubing Companion Activity Sheet 207
9.15 Bloom's Taxonomy 208
9.16 Graphic Organizers 209
9.17 Why Use Graphic Organizers? 210
9.18 How Do You Use Graphic Organizers? 211
9.19 Herringbone Graphic Organizer 212
9.20 Double-Entry Journal 213
9.21 Learning Centers 214
9.22 Centers Planning Guide 216
9.23 Keeping Students on Target 217
9.24 Learning Contract 218
9.25 Anchor Activities 219
9.26 Activating Strategies 220
9.27 Techniques to Set the Stage for Learning 221
9.28 Strategies to Support Learning During Instruction 223
9.29 A Closer Look: During-Instruction Strategies 224
9.30 After-Reading Strategies 226
9.31 Summarizer Activities to Reflect on Learning 227
9.32 Culminating Review Games 230
Chapter 10 Reflecting on Practice and Planning Tools
10.1 Maintaining an Effective Co-Teaching Partnership 232
10.2 Taking It One Step at a Time 233
10.3 Co-Instruction: Where Are You Now? 235
10.4 The Co-Teaching Rating Scale 237
10.5 Co-Teaching Road Map 241
10.6 Looking Ahead: Planning Guide 242
10.7 Student Profile 243
10.8 Making the Most of Lesson-Planning Time 245
10.9 Co-Planning Agenda Framework 246
10.10 Lesson Preparation Pointers 247
10.11 Co-Teaching Lesson Planning Worksheet 248
10.12 Co-Teaching Lesson Planning Template 249
10.13 Keeping Track 249
Appendix Questions for Discussion 250
Notes 256
Additional Resources 258
Index 263