The Codes Guidebook for Interiors, Sixth Edition Complete Access Pack with Wiley E-Text, Study Guide 6e, and Interactive Resource Center Access Card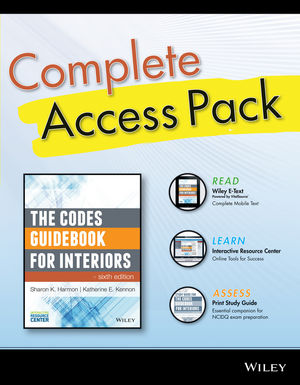 The Codes Guidebook for Interiors, Sixth Edition Complete Access Pack with Wiley E-Text, Study Guide 6e, and Interactive Resource Center Access Card
ISBN: 978-1-118-99019-3
Sep 2014
144 pages
Description
Harmon, The Codes Guidebook for Interiors, 6th Edition Complete Access Pack with now offers a Wiley E-Text: Powered by VitalSource with Interactive Resource Center registration card. The Complete Access Packs offer many features and benefits:
A code for downloading the eBook of The Codes Guidebook For Interiors, 6th Edition 
Access to the Interactive Resource Center
Study Guide for The Codes Guidebook for Interiors, 6th Edition
The Interactive Resource Center is an online learning environment where instructors and students can access the tools they need to make efficient use of their time, while reinforcing and assessing their understanding of key concepts for successful understanding of the course. An access card with redemption code for the online Interactive Resource Center is included with all new, print copies or can be purchased separately.    (***If you rent or purchase a used book with an access code, the access code may have been redeemed previously and you may have to purchase a new access code - ISBN: 9781118990179).
The online Interactive Resource Center contains resources tied to the book, such as:
Interactive Forms and Checklists
Downloadable Bibliography
Flashcards by chapter for focused learning
The Codes Guidebook for Interiors, 6th Edition is the standards reference of choice for designers and architects, and the only guide devoted exclusively to codes applicable to interiors. With jargon-free explanations of all standards and regulations of concern to designers and architects, the eBook takes readers step-by-step throughout the codes relevant to each stage in the design process. 
INSET INDEX XI
PREFACE XIII
ACKNOWLEDGMENTS XVII
INTRODUCTION: HOW TO USE THIS BOOK 1
Definitions 2
Using Codes in the Design Process 3
Organization of the Book 5
Available Codes and Standards 6
Prescriptive and Performance 7
Accessibility Regulations 8
Sustainability Requirements 9
Figures in the Book 10
Getting Started 10
Minimum Requirements 11
CHAPTER 1: ABOUT THE CODES 13
A Brief History 14
Code Publications 15
Federal Regulations 35
Standards Organizations 43
State and Local Codes 53
Interior Codes Checklist 54
CHAPTER 2: OCCUPANCY CLASSIFICATIONS AND LOADS 57
Understanding Occupancy Classifications 58
Comparing the Codes 61
Description of Occupancies 63
New versus Existing Occupancies 83
More Than One Occupancy Type 86
Accessibility Requirements 95
Determining Occupant Loads 99
Using the Occupant Load 110
Checklist 111
CHAPTER 3: CONSTRUCTION TYPES AND BUILDING SIZES 115
Understanding Construction Types 116
Comparing the Codes 119
Combustible versus Noncombustible 120
Determining Construction Types 122
Sustainability Considerations 129
Understanding Building Height and Area 131
Height and Area Limitations 136
CHAPTER 4: MEANS OF EGRESS 139
Comparing the Codes 140
Means of Egress Components 142
Exit Accesses 147
Exits 168
Areas of Refuge 174
Exit Discharges 178
Means of Egress Capacity 180
Arrangement of Exits 194
Signage 205
Emergency Lighting and Communication 209
Checklist 210
CHAPTER 5: FIRE AND SMOKE RESISTANT ASSEMBLIES 215
Comparing the Codes 217
Compartmentation in a Building 220
Fire Walls 221
Fire Barriers, Horizontal Assemblies, and Fire Partitions 222
Smoke Barriers and Smoke Partitions 241
Opening Protectives 244
Through-Penetration Protectives 257
Test Ratings 263
Using Rated Materials and Assemblies 265
Sustainability Considerations 269
Checklist 270
CHAPTER 6: FIRE PROTECTION SYSTEMS 275
Comparing the Codes 276
Detection Systems 279
Alarm Systems 284
Extinguishing Systems 290
Sustainability Considerations 304
Checklist 305
CHAPTER 7: PLUMBING AND MECHANICAL REQUIREMENTS 309
Comparing Plumbing Codes 310
Number of Plumbing Fixtures 311
Plumbing Fixture Requirements 320
Toilet and Bathing Facilities 331
Plumbing Sustainability Considerations 348
Comparing Mechanical Codes 349
Mechanical Requirements 352
Mechanical Sustainability Considerations 359
Checklist 360
CHAPTER 8: ELECTRICAL AND COMMUNICATION REQUIREMENTS 365
Comparing Electrical Codes 366
Electrical Components and Devices 369
Grounding and Circuit Interrupters 382
Light Fixtures 386
Required Electrical Systems 391
Electrical Sustainability Considerations 394
Comparing Communication Codes 398
Communication Components and Devices 400
Types of Communication Systems 407
Communication Sustainability Considerations 415
Checklist 415
CHAPTER 9: FINISH AND FURNITURE SELECTION 419
Types of Finishes and Furnishings 420
Comparing the Codes 421
Standards and Testing 424
Determining Finish Classifications 450
Obtaining Test Results 456
Accessibility Requirements 462
Other Code Restrictions 468
Sustainability Considerations 472
Checklist 478
CHAPTER 10: CODE OFFICIALS AND THE CODE PROCESS 483
Authority Having Jurisdiction 484
Code Enforcement 488
The Code Process 490
Documentation and Liability 505
Future Technology 512
APPENDIX A: ACCESSIBILITY AND THE ADA 515
Places Requiring Accessibility 515
Original ADAAG 518
New ADA Standard 519
Level of Compliance 521
Regulation and Enforcement 524
Responsibility for Compliance 525
APPENDIX B: SUSTAINABILITY 527
Green Rating Systems 529
Sustainable Standards and Certification Programs 533
Life Cycle Assessments 537
Environmental Product Declarations 540
Additional Tools 540
APPENDIX C: EXISTING AND HISTORIC BUILDINGS 543
Existing Buildings 545
Historic Buildings 549
Sustainability Considerations 551
APPENDIX D: FAMILY RESIDENCES 553
Construction Types and Building Size 554
Means of Egress 554
Fire and Smoke Resistance 555
Fire Protection 556
Plumbing 557
Mechanical 558
Electrical and Communication 559
Finishes and Furniture 560
Accessibility Considerations 561
Sustainability Considerations 561
BIBLIOGRAPHY (BY TOPIC) 565
GLOSSARY 567
INDEX 583