The Colours of Our Memories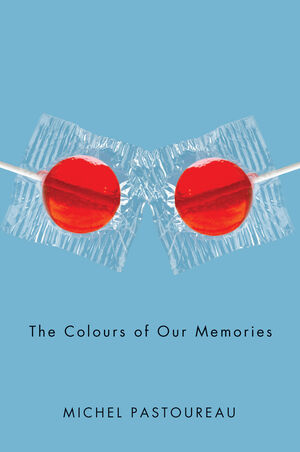 The Colours of Our Memories
ISBN: 978-0-745-65571-0 August 2012 Polity 240 Pages
Download Product Flyer
Download Product Flyer
Download Product Flyer is to download PDF in new tab. This is a dummy description. Download Product Flyer is to download PDF in new tab. This is a dummy description. Download Product Flyer is to download PDF in new tab. This is a dummy description. Download Product Flyer is to download PDF in new tab. This is a dummy description.
Description
What remains of the colours of our childhood? What are our memories of a blue rabbit, a red dress, a yellow bike? Were they really those colours? And later on, what colours do we associate with our student years, our first loves, our adult life? How does colour leave its mark on memory? How does it stimulate memory? How does it transform it? Or, to reverse that question, how does colour become the victim of memory's whims and lapses?
In an attempt to reply to these questions - and to many others - Michel Pastoureau presents us with a journal about colours that covers over half a century (1950-2010). Through personal memories, notes taken on the spot, uninhibited comments, scholarly digressions and the remarks of a professional historian, this book retraces the recent history of colours in France and Europe. Among the fields of observation that are covered or evoked are the vocabulary and data of language, fashion and clothing, everyday objects and practices, emblems and flags, sport, literature, painting, museums and the history of art.
This text - playful, poetic, nostalgic - records the life of both the author and his contemporaries. We live in a world increasingly bursting with colour, in which colour remains a focus for memory, a source of delight and, most of all, an invitation to dream.
Table of contents
Colour. An aide-mémoire
I. CLOTHING
In the beginning was yellow
Turbulent stripes
The navy-blue blazer
Subversive trousers
A particular blue
From the garment to the myth
Colour against flesh
Neutral shades in good taste
Mitterand beige
Slimming colours
In the London Underground
II. DAILY LIFE
My mother's pharmacy
The sad tale of young Philippe
Sweet-dispensers
Choosing a colour: an impossible undertaking?
Greyness
Metro tickets
Red or blue?
Traffic lights
Colour and design: a missed chance?
Eating colours
III. THE ARTS AND LETTERS
In a painter's studio
A painter caught between two volumes
In darkened halls
Ivanhoe
'Vowels'
The Red and the Black
Chrétien de Troyes at the cinema
Pink pigs and black pigs
When Dalí assigned marks
The colours of a great painter
Historians without colours
The workings of time
IV. ON SPORTS GROUNDS
Goals and referees
The yellow bike
Bartali and the Italian flag
The Tour de l'Ouest
Colour by default
Easy colours and difficult ones
Pink and orange
V. MYTHS AND SYMBOLS
Little Red Ridinghood
Long live school Latin
My discovery of heraldry
The black cat
Green superstitions
The colour of destiny
Furling the colours
A historical object that is alarming
Playing chess
Wittgenstein and heraldic colours
VI. ON TASTES AND COLOURS
An American gift
Sunbathing through the years
The 'bling' of the 1950s
A brief history of gold
A mysterious shade of green
Do you see red clearly?
No purple for children
The whims of memory
Preferences and opinion polls
VII. WORDS
Brown and beige
Spelling and grammar
A day at the races
The zero degree of colour
A part that stands for the whole
The Greek blue
The demise of nuances
Speaking of colours without showing them
What is colour?
Bibliography
Index
A few helpful chronological details
Reviews
"In this lovely memoir, Pastoureau shares some of the colour associations that signposted his childhood and young adulthood. Embracing the belief that our identities depend on the memories we accumulate, Pastoureau elegantly shows how memories themselves are shaped by colour."
Times Higher Education
"The ubiquity of colour in modern society blinds us to its cultural significance. In his dazzling new book - a kaleidoscopic mix of historical research and personal memoir - Michel Pastoureau brilliantly reflects on what colour means, and what colours mean, from the underwear drawer to the TV screen."
Jonathon Keats, author of Virtual Words and Forged
"In this book the distinguished medievalist Michel Pastoureau uses his memoirs to frame reflections on a variety of historical topics that include the history of jeans, the history of signalling and the language of colour in ancient Greece. The author carries his learning lightly and writes with fluency, grace and humour."
Peter Burke, University of Cambridge
"A wonderful book made up of personal memories, those of a generation born after the war, of notes taken at the time and of scholarly explanations. Thanks to Michel Pastoureau and to the generosity of his erudition and clarity of his analyses, our life suddenly seems much richer."
L'Express
"This unusual autobiographical reflection is consistent with Michel Pastoureau's reputation as a leading historian of colours.  Here he draws readers into his distinctive way of thinking about the role that colours play in our memory, showing how our memories open up new fields of research: one rediscovers the objects of everyday life and of mass consumption, the cinema, literature and art, not to mention his cherished theme of heraldry. Through these reflections the reader retraces the history of colours and their theorization in the West. This book is a delight and it will awaken in readers a new curiosity about the world around them."
Etudes: Revue de Culture Contemporaine

"the writing is informative, often amusing, and delightfully readable."
Australian Journal of Politics and History