The Common Sense of Money and Investments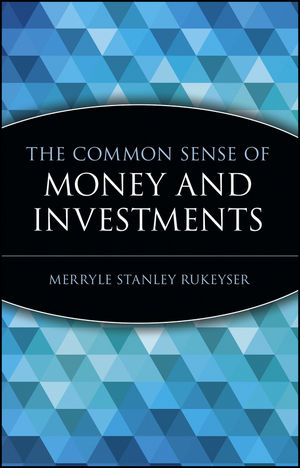 The Common Sense of Money and Investments
ISBN: 978-0-471-33212-1
Sep 1999
352 pages
Description
A timeless classic on all things financial

Books of investment advice have been around forever, but few have stood the test of time as well as The Common Sense of Money and Investments. Written by Merryle Stanley Rukeyser in 1924, it offers commonsense insight on everything from how to detect a charlatan to how to select an honest broker. With a charming, straightforward style, this timeless book proves that the best investment advice is eternal.
* Foreword by Louis Rukeyser
* Covers the period after the dawn of the Liberty Bond and before the Crash
WHY INVEST?-A COMMON SENSE PROBLEM.

A Common Sense View of Money.

When to Enjoy the Fruits of Your Labor.

Legitimate Objectives of Thrift.

Outlets for Surplus Funds.

The Mind of the Small Investor.

The Radical and His Bonds.

DONT'S FOR INVESTORS-AND A FEW AFFIRMATIONS.

Tests of a Safe Investment.

Why Not Get Rich Quick?

Investing Without Red Tape.

Investment Programs for Rich and Poor.

When to Switch from Stocks to Bonds.

How to Select an Honest Broker.

How to Detect a Security Charlatan.

Bucket Shops-and How to Keep Out of Them.

High Finance-and the Public Good.

Has the Day of Opportunities Passed?

A Formula for Effective Thrift.

FINANCIAL KNOWLEDGE AS A TOOL.

Secrets of the Financial Page.

Some Fallacies of the Investment Column.

The Story Behind the Figures in a Financial Report.

Soothsayers in Wall Street.

Half Truths About Wall Street Affairs.

Big Business Flirts with Virtue.

Lessons From the Lives of Field Marshals of Industry.

The Customer Buys the Plant.

Banks for the Impecunious.

"One Dollar Down And-."

Avoiding Bankruptcy in the Pantry.

Picking Your Employer and Your Job.

How to Turn Old Age from a Defeat Into a Triumph.

On the Alleged Root of All Evil.

Books as Stepping Stones to Business Success.

APPENDIX.

Bibliography.

Glossary.

Bond Yield Formula.

Bond Interest Table.

Table Showing Return on Dividend-Paying Stocks.

Index.