The Communist Movement since 1945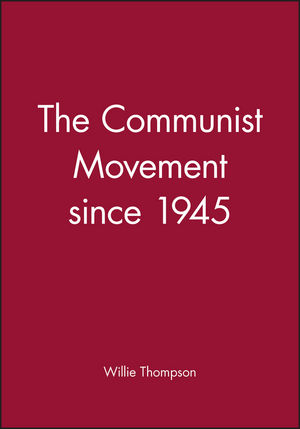 The Communist Movement since 1945
ISBN: 978-0-631-19969-4
Jan 1998, Wiley-Blackwell
274 pages
Description
From the late 1980s the seemingly firmly established communist movement collapsed with dramatic suddenness.
Introduction.
1. The Movement's Turning Point.
2. Cold War and Colonial Revolution.
3. Destalinisation.
4.'Peaceful Co-Existence' and Schism.
5. Orthodox Communism 1963-1970.
6. Indian Summer 1970-1981.
7. The Amazed Evangelist.
Biographical Notes.
Chronology.
Bibliography.
Index.
Maps.
* An up-to-date critical overview of communism in the period since World War II.
* Offers the first comparative assessment of world communism since the disintegration of the USSR.
* Examines the tension between communism as a set of ideas and communism as a form of economic and social organization.
* Includes biographies of key figures, extensive chronology and maps.