The Compensation Solution: How to Develop an Employee-Driven Rewards System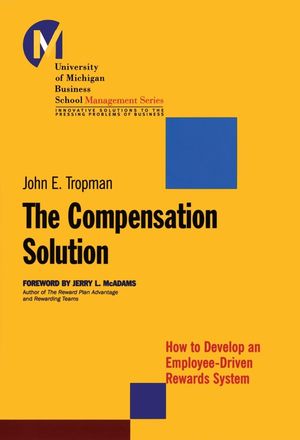 The Compensation Solution: How to Develop an Employee-Driven Rewards System
ISBN: 978-0-787-95401-7 April 2001 Jossey-Bass 288 Pages
Description
Money isn't everything to today's employees. This book shows companies how to combine traditional compensation with the educational, emotional, and psychological benefits that will attract the best and brightest. It identifies the ten elements--including learning, advancement, emotional rewards, and quality of life--that job seekers rank highest among desired benefits. Then it shows employers how to combine them with monetary benefits to create effective, employee-driven compensation packages.
Series Foreword (Robert E. Quinn).

Foreword (Jerry L. McAdams).

Preface.

PART 1 THE TOTAL COMPENSATION SOLUTION.

From Old Pay to Total Compensation.

Cafeteria Compensation: The New New Pay.

PART 2 THE TOTAL COMPENSATION EQUATION.

The Battle of Base Pay: The Security of Salary.

The Augmentation Accelerant: The Push for Performance.

Indirect Pay: The Befuddlement of Benefits.

Works-Pay and Perks-Pay: Acquiring Tools, Achieving Status.

Personal Advancement and Growth: The Ladder or the Lattice?

The Softer Side of Compensation: Psychic Income, Quality of Life,and the X Factor.

PART 3 CHANGING THE OLD PAY MIND-SET AND STRUCTURE.

Upgrading Conventional Compensation.

Appendix: A Look at Compensation Issues in the Public and NonprofitSectors.

Notes.

The Author.

Index.