The Complete Book of Fun Maths: 250 Confidence-boosting Tricks, Tests and Puzzles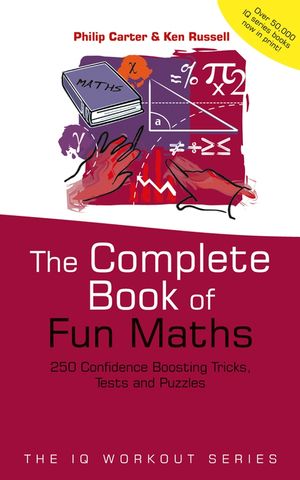 The Complete Book of Fun Maths: 250 Confidence-boosting Tricks, Tests and Puzzles
ISBN: 978-1-907-31208-3 October 2009 Capstone 184 Pages
Description
The idea of this book is to help build confidence with maths via a series of tests and puzzles.  After a gentle 'warm-up' section, the puzzles and tests get progressively more challenging over the course of the book.  There is a hints section for readers who get stuck, as well as a complete set of answers for every test at the back of the book.

After the 'warm-up' section, there are puzzles and tests on 'lateral thinking', 'fun with numbers',  'logic puzzles', 'geometrical puzzles' and 'difficult puzzles'. Readers will soon become familiar and comfortable with a range of tricks and tests, from magic number squares to Fibonacci numbers.
Introduction.
Section 1: Puzzles, tricks and tests.
Chapter 1: The work out.
Chapter 2: Think laterally.
Chapter 3: Test your numerical IQ.
Chapter 4: Funumeration.
Chapter 5: Think logically.
Chapter 6: The logic of gambling and probability.
Chapter 7: Geometrical puzzles.
Chapter 8: Complexities and curiosities.
Section 2: Hints, answers and explanations.
Hints.
Answers and explanations.
Section 3: Glossary and data.
Glossary.
Data.
Section 4: Appendices.
Appendix 1: Fibonacci and nature's use of space.
Appendix 2: Pi.
Appendix 3: Topology and the Mobius strip.