The Complete Guide to Foodservice in Cultural Institutions: Keys to Success in Restaurants, Catering, and Special Events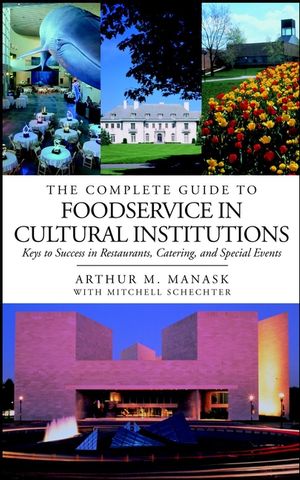 The Complete Guide to Foodservice in Cultural Institutions: Keys to Success in Restaurants, Catering, and Special Events
ISBN: 978-0-471-21608-7 July 2002 304 Pages
Description
Create, manage, and grow a successful foodservice operation in any cultural institution

The Complete Guide to Foodservice in Cultural Institutions provides insight, strategies, and information needed to run an appealing, efficient, and profitable foodservice operation that lives up to the commitment, standards, and quality expectations of any cultural institution. It is a unique and invaluable resource for administrators charged with ensuring the quality, profitability, and safety of foodservice operations in any cultural institution.

A series of case studies recounts the problems and shortcomings encountered by a number of cultural institutions' foodservice programs. These studies demonstrate how to achieve improved financial performance, management efficiencies, visitor satisfaction, and integration with each institution's mission and culture. Through presentation of these case studies, this comprehensive guide shows administrators at museums, zoos, and other cultural institutions how to:
Use catered special events to encourage membership and sponsorship
Develop and market a private special events program
Create a restaurant that enhances the visitor experience
Evaluate and assess in-house restaurants and special events programs
Renovate or expand an existing foodservice operation
Ensure food quality and safety
Foreword.

Preface.

Acknowledgements.

Foodservice and the Visitor Experience.

The Role of Catering and Special Events in Membership and Sponsorship Development.

Achieving Self-Operation: Challenge-Solution Case Studies.

Performing Evaluations and Assessments: Challenge-Solution Case Studies.

Developing and Marketing Special Events Programs: Challenge-Solution Case Studies.

Performing Special-Events Department Assessments: Challenge-Solution Case Study.

Analysis of Demand and Architectural Program Statement for Foodservice Planning in a Museum Building.

Conducting Market Research for Restaurants and Special Events.

Developing and Understanding Foodservice Requirements Within a New Institution or Existing as Part of a Facility Expansion.

UBIT: A Food and Facilities Tax Primer by: Jeffrey M. Hurwit.

Food Safety: Too Often Ignored Until Too Late.

Glossary.

Index.
"...a good presentation and a well-organised approach make this publication the secret to success in running events for cultural institutions." (Hospitality, May 2002)