The Complete Guide to Writing & Producing Technical Manuals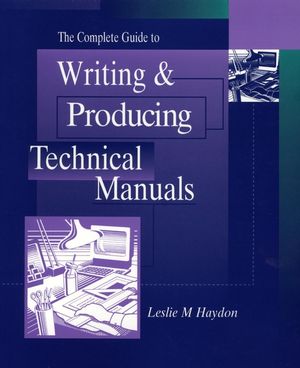 The Complete Guide to Writing & Producing Technical Manuals
ISBN: 978-0-471-12281-4
Jun 1995
312 pages
Description
A step-by-step guide through the entire process of preparing and publishing high-quality technical manuals

The Complete Guide to Writing and Producing Technical Manuals shows the reader how to create clear, well-organized technical manuals for any equipment, simple or complex. Requiring no specialized background knowledge, this unique guide lays out all the aspects of the job--from initial concept to final publication. The author draws on more than twenty-five years' experience as a technician and technical writer to provide authoritative, easy-to-follow instructions on how to organize detailed technical information into a finished, high-quality technical manual.

Major topics include:
* Planning procedures for technical manuals
* Manual types and arrangements, including operation manuals, maintenance and repair instructions, illustrated parts lists, and more
* Layout and format, including sample page layouts
* Writing style and technical editing techniques
* Front matter and introductions
* Illustration and table preparation, including typical charts, diagrams, and illustrations
* Preparing camera-ready copy
* Printing and binding
* Organizing a technical handbook department
* And much more


Fully illustrated and supported by handy appendices and a glossary of technical terms, The Complete Guide to Writing and Producing Technical Manuals is an indispensable reference for all engineers, scientists, and technical writers who need to produce effective, professional technical manuals.
Technical Writing as a Career.

Technical Manuals and Handbooks.

Planning a Technical Manual.

Publishing Systems.

Layout and Format.

Manual Writing Style.

Preparing a Manual Specification.

Front Matter and Introductory Material.

Illustrations.

Table Preparation.

Operation.

Maintenance and Repair Instructions.

Illustrated Parts Breakdown.

Appendixes and Addenda.

Amending Manuals.

Preparing Camera-Ready Copy.

Printing and Binding.

The Technical Editor.

A Technical Handbook Department--From Concept to Operation.

Appendices.

Glossary of Technical Terms.

Bibliography.

Index.