The CompleteLandlord.com Ultimate Property Management Handbook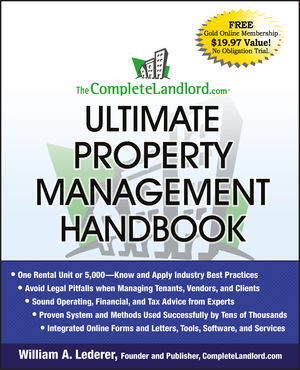 The CompleteLandlord.com Ultimate Property Management Handbook
ISBN: 978-0-470-46690-2
Mar 2009
288 pages
Description
This book covers the entire cycle of becoming a successful real estate property manager. Written in an accessible format , this book provides valuable information for investors who are now landlords and property managers. This book is not about the day-to-day of landlording, rather it focuses on the strategies for managing the assets of your property. Readers will find information on:

? The benefits of managing property

? Assembling your core team (attorneys, accountants and insurers)

? Legal documents

? And office help (including the right systems and software, how and when to maintain and repair, and the finances of managing your properties)
Acknowledgments.
List of Icons.
Introduction.
About the Product.
SECTION ONE: INTRODUCTION TO PROPERTY MANAGEMENT.
Chapter 1 The Benefi ts of Managing Properties.
Chapter 2 The Skills, Aptitude, and Attitudes of Successful Property Managers.
Chapter 3 Build a Winning Strategy, Plan, and Team.
SECTION TWO: OPERATIONS.
Chapter 4 Beyond Record Keeping: The Importance of Systems.
Chapter 5 Property Maintenance, Repairs, and Construction.
Chapter 6 Achieving Scale: Hiring, Training, Retaining, and Compensating Property Management Personnel.
Chapter 7 Outsourcing Property Management.
SECTION THREE: TENANTS.
Chapter 8 Marketing Vacancies/Setting Rents and Terms.
Chapter 9 Setting Rents and Structuring Leases.
Chapter 10 Screening Tenants: The War Is Won before It Is Ever Fought.
Chapter 11 The Mechanics of Rent Billing, Collection, and Reporting.
Chapter 12 Tenant Relations, Communications, and Problems.
SECTION FOUR: GETTING DOWN TO BUSINESS.
Chapter 13 Entity Formation and Asset Protection.
Chapter 14 Understanding Landlord-Tenant Law including Discrimination.
Chapter 15 Rental Property Finance.
Chapter 16 Insurance.
SECTION FIVE: SPECIAL TOPICS.
Chapter 17 Specialized Housing Markets.
Chapter 18 Affordable Housing, Section 8, and Discrimination.
Chapter 19 Continuing Your Property Management Education.
APPENDIXES.
Appendix A Summary of Icon Information.
Appendix B Tour of the CompleteLandlord Site with Free Trial Membership Offer.
Appendix C Essential CompleteLandlord Worksheets, Checklists, and Other Forms.
Appendix D Associations and Other Resources.
Appendix E Glossary of Real Estate Terms.
Index.
CLL Catalog.