The Complexity of Boolean Functions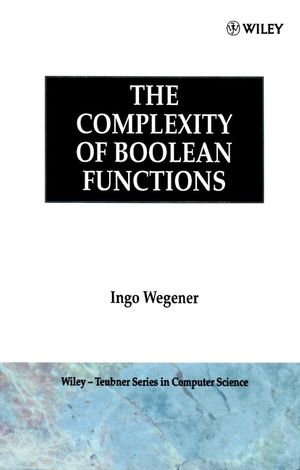 The Complexity of Boolean Functions
ISBN: 978-0-471-91555-3
Jan 1991
470 pages
Description
Presents a large number of recent research results previously unavailable in book form. Initially deals with the wee-known computation models, and goes on to special types of circuits, parallel computers, and branching programs. Includes basic theory as well recent research findings. Each chapter includes exercises.
Introduction to the Theory of Boolean Functions and Circuits.
The Minimimization of Boolean Functions.
The Design of Efficient Circuits for Some Fundamental Functions.
Asymptotic Results and Universal Circuits.
Lower Bounds on Circuit Complexity.
Monotone Circuits.
Relations between Circuit Size, Formula Size and Depth.
Formula Size.
Circuits and other Non-Uniform Computation Methods vs.
Turing Machines and other Uniform Computation Models.
Hierarchies, Mass Production, and Reductions.
Bounded-Depth Circuits.
Synchronous, Planar, and Probabilistic Circuits.
PRAMs and WRAMs: Parallel Random Access Machines.
Branching Programs.
References.
Index.