The Connectors: How the World's Most Successful Businesspeople Build Relationships and Win Clients for Life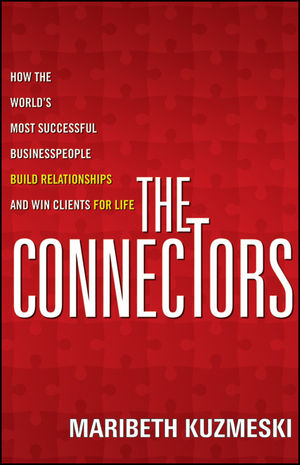 The Connectors: How the World's Most Successful Businesspeople Build Relationships and Win Clients for Life
ISBN: 978-0-470-53013-9 September 2009 272 Pages
Description
Learn the relationship-building secrets that lead to lifelong clients, repeat customers, and endless referrals
In today's commoditized marketplace, no matter what product or service you sell, there's probably someone somewhere able to offer it cheaper, faster, and maybe even better. So how do you differentiate yourself from your competitors? The Connectors shows that the only thing that truly sets you apart is the quality of your relationships with your clients and customers.
Everyone knows that relationships are important in business. Yet most people would admit that their relationships could be better—but don't spend time working on the underlying skills. This book explains how to develop better, more profitable connections—as illustrated proven by some of the world's most successful professionals. Even if you're not a "people person," you can dramatically grow your business or your career through a few simple approaches to relationship-building.
The Connectors presents a five-step methodology that lead to lifelong clients, repeat customers, and endless referrals. Inside, you'll learn how to:
Stop networking and start truly connecting
Create an avalanche of referrals and an army of happy customers
Become a "connector," even if you've never been a "people person"
Find your social IQ—and improve it
Put relationship-building principles to work daily
Focus on others and reap the rewards yourself
Ask the right questions—and sell without selling
Differentiate yourself through the impact you have on others
In The Connectors, Maribeth Kuzmeski, founder of Red Zone Marketing, LLC, and consultant to Fortune 500 firms, shows you how to build profitable, long-lasting business relationships.
Introduction ix
PART I Winning Business with Relationships.
CHAPTER 1 The Common Denominator of Greatness and Success: It's Not Money, It's People! 3
CHAPTER 2 You Can Be a Connector Even If You're Not a Natural People Person: How Social Intelligence Makes a Major Difference in Business 19
CHAPTER 3 The Connector IQ Assessment: Am I Socially Intelligent? 31
CHAPTER 4 The Red Zone Connectors Formula: The Principles for Building Valuable Relationships 42
PART II How Do They Do It? The 5 Traits of Connectors.
CHAPTER 5 Develop a True "What's in It for Them" Mentality: Focusing on Others Brings More for You 53
CHAPTER 6 Listen! Curiously Listen! 65
CHAPTER 7 Important Questions to Ask That Attract Connections 83
CHAPTER 8 Getting the Sale to Close Itself: Using Creative Strategies to Sell Without Selling 96
CHAPTER 9 Create a Memorable Experience: Differentiating Yourself by the Impact You Leave on Others 106
PART III Applying the 5 Connector Traits.
CHAPTER 10 Gain a Stream of Profitable Referrals: The Litmus Test for Relationship Success 125
CHAPTER 11 The Employee Connection: The Critical Factor in Creating Clients for Life 138
CHAPTER 12 I Don't Have Time to Connect! Finding the Time to Connect with an Already Busy Schedule 147
CHAPTER 13 Find a Mentor: The Influence that Leads, Motivates and Holds You Accountable 154
CHAPTER 14 Women's Organizations: Fulfilling a Unique Need for Women to Connect 164
PART IV Power Tools for Relationship Building.
CHAPTER 15 How to Get the Most from Outlook, ACT, and Other CRM Software: Strategies for Organizing and Tracking Relationships 175
CHAPTER 16 Christmas Cards Don't Work: Meaningful Strategies for Keeping in Touch 182
CHAPTER 17 Using Speaking Skills to Develop Relationships: Simple Strategies to Connect Powerfully When Speaking to Small and Large Groups 191
CHAPTER 18 Connecting through Social Media Technology: How to Get the Most Out of Facebook, LinkedIn, and Other Social Networking Sites 200
CHAPTER 19 The Contrarian Networking Strategy: Create Truly Effective Networking Not Focused on Networking 212
CHAPTER 20 Coaching Your Way through to Better Relationships: A Self-Coaching Exercise for Improving Business Relationships 222
CHAPTER 21 Financial Advisor Relationship Strategies: A Niche-Based Look at Connecting with Dramatic Sales Results 235
Notes 248
Index 251