The Conscious Investor: Profiting from the Timeless Value Approach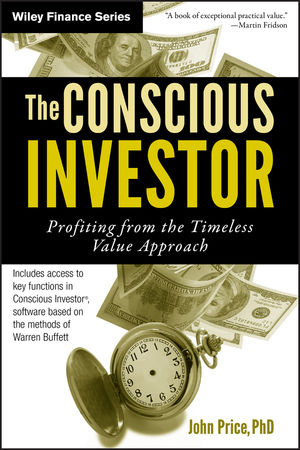 The Conscious Investor: Profiting from the Timeless Value Approach
ISBN: 978-0-470-91099-3 September 2010 384 Pages
Description
An intriguing look at the full range of value methods brought together for the first time
The biggest block to success in the stock market is unconscious investing, or following the crowd without asking the right questions such as: "What is it really worth?" Even more fundamental is: "What rate of return can I confidently expect to get?" Without having the methods to answer these questions is like trying to sail a boat without a rudder.
The Conscious Investor covers each of the main methods used to calculate value or return in the stock market, along with descriptions of how and when to use them, as well as their strengths and weaknesses. Interspersed throughout the methods are the timeless investment principles of Benjamin Graham and Warren Buffett. The book:
Includes balance sheet methods, dividend discount methods, discounted cash flow methods, price ratio methods, and many others
Explains the significance of viewing real value as a combination of a stock's price or market value and its intrinsic value
Comes with free access to key functions in the author's Conscious Investor software
The Conscious Investor is indispensable reading for everyone with an interest in investing in the stock market, from novices to experienced professionals. Using this book as your guide, you'll quickly discover what it takes to be a conscious investor and gain more confidence in knowing what and when to buy, when to hold, and when to sell.
Acknowledgments.
Introduction.
Chapter 1 What Is Intrinsic Value?
Chapter 2 Price Is What You Pay. . . .
Chapter 3 . . . Value Is What You Get.
Chapter 4 Follow the Money.
Chapter 5 Everything Is Number and Ratio.
Chapter 6 Measuring Value by Taking Snapshots.
Chapter 7 A Bird in the Hand.
Chapter 8 The Joy of Dividends.
Chapter 9 Don't Get Mad, Get Even.
Chapter 10 PEG and Friends.
Chapter 11 What Rate of Return Can I Expect?
Chapter 12 Please, Sir, I Want Some More.
Chapter 13 Forecasting and the Three Most Important Words in Investing.
Chapter 14 Where Do We Go from Here?
Appendix A Relationship between Return on Equity and Growth of Earnings.
Appendix B Calculations for Discount Methods.
Notes.
Glossary.
About the Author.
Disclaimer.
Index.