The Conservative Party: From Thatcher to Cameron, 2nd Edition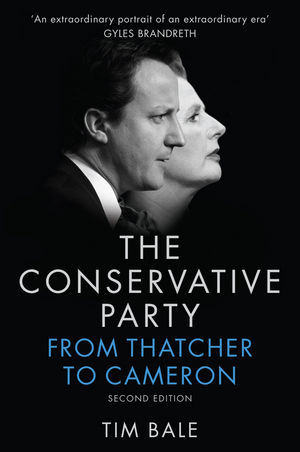 The Conservative Party: From Thatcher to Cameron, 2nd Edition
ISBN: 978-0-745-68748-3 January 2017 Polity 472 Pages
Description
The Conservatives are back, and back with a bang – two election wins in a row and, providing they can hold things together, in a pretty good position to win another. But many questions about their recent past, present, and future still remain. Just why did the world's oldest and most successful political party dump Margaret Thatcher only to commit electoral suicide under John Major? And what stopped the Tories getting their act together until David Cameron came along? Did Cameron change his party as much as he sometimes liked to claim, or did his leadership, both in opposition and in government, involve more compromise - and more Conservatism – than we realize? Finally, what does the result of the EU referendum mean for the Party in years to come?
The answers, as this accessible and gripping book shows, are as intriguing and provocative as the questions. Based on in-depth research and interviews with the key players, Tim Bale explains how and why the Tories lost power in 1997 – and how and why they have eventually been able to rediscover their winning ways, even if internal tensions and external challenges mean they still can't take anything for granted. Crucial, he suggests, are the people, the power structures, the ideas, and the very different interests of those involved. This second edition of The Conservative Party: From Thatcher to Cameronis a must-read for anyone wanting to understand what makes the Tories tick.
Table of contents
Contents
1 SOLVING THE PUZZLE: AN INTRODUCTION
2 LOSING THE PLOT: THATCHER TO MAJOR, 1989-1997
3 TACTICS OVER STRATEGY: WILLIAM HAGUE, 1997-2001
4 'SIMPLY NOT UP TO IT' : IAIN DUNCAN SMITH, 2001-2003
5 LIKE MOTHS TO A FLAME: MICHAEL HOWARD, 2003-2005
6 'COMETH THE HOUR, COMETH THE DAVE' THE LONG LEADERSHIP CONTEST, MAY-DECEMBER 20051
7 'THE POLITICS OF AND' : OPPOSITION, 2005-2010
8 'THE NATIONAL INTEREST'
COALITION AND MAJORITY GOVERNMENT, 2010-2015
9 GETTING THE MESSAGE: A CONCLUSION
New To This Edition
Completely revised and updated to include the 2015 General Election and its aftermath.
Reviews
'This fully updated survey is, more than ever, the indispensable study on the recent history of the party, confirming Tim Bale as the best political historian writing today.'
Matthew d'Ancona, columnist, The Guardian and the Evening Standard
'Tim Bale's study of the Conservatives is a closely argued account of the party's journey from Thatcher to the present day, and will prove essential reading for anyone interested in politics.'
John Bercow
'An extraordinary portrait of an extraordinary era. It reads so well and it rings so true.'
Gyles Brandreth