The Conservative Party: From Thatcher to Cameron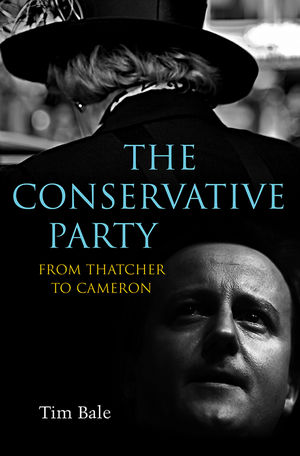 The Conservative Party: From Thatcher to Cameron
ISBN: 978-0-745-65937-4
May 2013, Polity
456 pages
Product not available for purchase
Description
The Conservatives are back - but how did they do it and what took them so long? What happened between the party's decision to dump one of the world's most iconic leaders, Margaret Thatcher, and the arrival in office of David Cameron at the head of the UK's new coalition government? Has Britain's prime minister really changed his party as much as he claims? Are they devotees of the Big Society or just the 'same old Tories', keen on cuts and obsessively Eurosceptic?

The answers, as this accessible and gripping book shows, are as intriguing and provocative as the questions. Based on in-depth research and interviews with the key players, Tim Bale explains why the Tories got themselves into so much trouble in the first place and how they were finally able to get things back on track. In the new paperback version, he also explores their inability to win an outright victory at the 2010 election and looks at their decision to share power with the Liberal Democrats. The Conservative Party: From Thatcher to Cameron is a must-read for anyone wanting to understand what makes the Tories tick. And it contains valuable lessons about what to do - and what not to do - for their Labour opponents.



1 Solving the puzzle: an introduction.
2 Losing the plot: Thatcher to Major, 1989-1997.
3 Tactics over strategy: William Hague, 1997-2001.
4 'Simply not up to it': Iain Duncan Smith, 2001-2003.
5 Like moths to a flame: Michael Howard, 2003-2005.
6 'Cometh the hour, cometh the Dave': the long leadership contest, May- December 2005.
7 'The politics of and': David Cameron, 2005- .
8 Getting the message: a conclusion.
"Doubtlessly this will be the sourcebook for the era. Specialists in British party politics will turn to and recommend it for many years."
British Politics Group Quarterly
"A simply brilliant book; his judgments are spot-on."
Edwina Currie, The Times
"Bale has clearly enjoyed a lot of insider access and his description of the internal battles to reshape conservatism are vital to an understanding of the present Tory leadership."
BBC News - Books of 2010
"Full of shrewd and astute judgments, it offers a mine of factual information and will for years be an indispensable source of understanding of the contemporary Conservative party. This book is written in a fluent, highly accessible and often witty style and demonstrates impressive narrative skills."
WJM Mackenzie Prize Statement
"[An] exhaustive and authoritative account."
London Review of Books
"This excellent and readable book is a fine account of how defeated parties turn themselves around."
LSE Blog
"An invaluable addition to the study of the current Conservative government."
Political Studies Review
"A hugely impressive achievement - and required reading for anyone who wants to understand the party most likely to run Britain in the new decade."
Sunday Business Post
"For a contemporary history of British politics, deliciously free of the jargon which usually masks the failure of academics to understand their subject, you will read nothing better than this."
Tribune
"In his new, rather good book, the academic Tim Bale provides a history of the Tories in the 15 years that preceded Mr Cameron's ascent. Read it and it isn't hard to work out the party's problem."
Daniel Finkelstein, The Times
"A brilliant analysis of why the party found it so hard to accept that election defeats suggested that it was doing something wrong, rather than that the electorate had made a terrible mistake ... It is the Labour Party that needs to read this book and ask itself how it can get ahead."
The Independent
"Tim Bale's study of the Conservative Party since 1990 is like a guidebook to a haunted house. Party officials roamed Westminster seeking exorcism from the ghosts of Thatcher ... His narrative is masterly and his judgments sound."
Simon Jenkins, The Guardian
"Anyone with an interest in the Conservatives will be deeply grateful to Tim Bale for writing such an intelligent and informative account of the party's decline from 1990 to its recovery from 2005 onwards."
Politics and Policy
"A mountain of insights about the tiny amount of space in which political leaders make their moves."
Independent Arts and Books Supplement
"A fascinating account of the recent politics of the Conservative Party based on extensive interviews with
the key actors."
Parliamentary Affairs
"A detailed yet splendidly readable study."
British Politics
"A wonderful insightful account of the Conservative party from the denouement of Margaret Thatcher's leadership in 1989/90 through to the ascent of David Cameron."
Party Politics
"A highly insightful, and often very funny, commentary on the party's dysfunctionality in the post-Thatcher era. In this election year, if you are going to read one book about the party that may shortly once again govern our nearest neighbour, read this one."
Irish Times
"Excellent ... a very useful first account of how the oldest and most successful political party in the western world lost its electoral advantage and then, finally, took years to find its way again."
Total Politics
"A solid, meticulous account."
Financial Times
"There haven't been a lot of good books published about the Conservative Party in recent years, but Tim Bale has written one that fills the gap ... he tells the story well, combining breezy prose with academic rigour and anecdotes from the key participants."
Andrew Sparrow, Guardian.co.uk
"Enough detail to delight the most obsessive politico."
Representation
"It's hard to think of anyone with an interest in British politics who will not enjoy, and profit from, Tim Bales outstanding book. His chapters on the Hague and Duncan Smith years in particular - the latter a man for whom the word 'hapless' could almost have been invented - form a kind of 'how not to do it' manual for any political party in opposition. I suspect Messrs Miliband and Balls have already ordered theirs."
Waterstones Booksellers

"Contains the best account so far of the 'decontamination' strategy pursued by Cameron after his surprise win in the leadership contest of 2005."
Progress
"Very detailed and convincing."
Times of Malta
"Bale provides a well-researched and very readable account of [his] thesis."
Times Higher Education
"Bale's book is useful reminder of the chronology of the main political events, often stormy, which have taken place over the past 20 years."
House Magazine
"An incisive book."
Orange Standard
"Tim Bale's book firmly avoids 'big picture' explanantions focused on single issues like 'sleaze' or Europe, and instead offers a detailed analytical narrative of the party leadership from the fall of Thatcher to the rise of Cameron. Bale in essence updates the old approach of High Politics, epitomised by the late Maurice Cowling, in which political history is the actions of a narrow band of senior politicians, and fuses this with a modern social scientist's understanding of the interrelationship between ideas, interests and insitutions."
Planet Magazine
"Tim Bale's study of the death and re-birth of the post-Thatcher Conservative Party is a delight to read. It is perky, cheeky, irreverent, packed with revealing quotes and in places deliciously funny. But Bale is not just an entertaining guide to the tribulations of the accident-prone Conservative leaders of the recent past. Only half-concealed by his jaunty prose and witty asides is a thorough scholar and insightful analyst. His anatomy of the modern Conservative Party will hold the field for a long time to come."
David Marquand
"Much the best book that has been written on the contemporary Conservative party."
Andrew Gamble
"Tim Bale has produced the best guide to the changing nature of the Conservative Party yet published. He appears to have read everything and spoken to everyone that matters to produce an eminently readable and interesting book. It should be required reading for all students of politics, as well as anyone wanting to know more about the contemporary Conservative Party."
Philip Cowley
"How did David Cameron find the key to success which the Tory Party has lost since 1997? Tim Bale's book, while thoroughly readable, covers this subject more convincingly and in greater depth than most political journalists. He has done an excellent job."
Douglas Hurd
"Tim Bale has succeeded in combining an accurate overview of the Conservative Party's history from Thatcher to Cameron with a wealth of intimate detail. The combination makes the book a riveting read, and a must for all devotees of modern politics."
Baroness Shephard
"This is the first comprehensive treatment of the Conservative Party since Margaret Thatcher. The period has seen extraordinary changes in the Party's fortunes and now we have a well-researched and balanced account of what happened."
David Willetts MP
"It is a meticulously thorough and also very well written book, nicely leavened by its sardonic tone: I laughed out loud more than once. It will surely be accepted as a definitive account of this period of the Conservative Party's history-a remorseless examination of why it took the party so very long to change enough to win again."
Andrew Cooper, founder of Populus and former Director of Strategy at Conservative Central Office
"Tim Bale's well-researched volume is essential reading for anyone who wants to understand the Conservative Party's recent history. The book is extremely accessible to the lay reader and chronicles not only some of the party's darkest days, but also its rediscovery of the will to win under David Cameron."
Jonathan Isaby, Co-Editor, ConservativeHome.com
"Now poised for national success again Conservatives should treat Tim Bale's timely account of their recent history as essential reading. Detailing the party's highs and lows this book reminds us of the scale of the challenge that faced David Cameron's new leadership, and illuminates his strategy for recovery."
Jo-Anne Nadler
"This is an excellent book immaculately researched. Tim Bale traces the downfall of the Conservative Party leading to the catastrophic defeat of 1997. He sheds new light on the party's continuing slide which was only conclusively ended when David Cameron became leader and moved back onto the centre ground of politics. He reveals the 'villains' of the story-not least the ideologically driven commentators-but his central question goes wider. He asks how it was that a party which had consistently sought power through the years lost the will to win? It is a book which Conservative politicians would be well advised to read now that, at long last, they have the opportunity of returning to government."
Norman Fowler
The first major study of the Conservative Party from Margaret Thatcher to David Cameron
Based on the author's in-depth interviews with key players within the Party and behind the scenes
Offers important new insights into why the Tories took so long to re-emerge as a party of government in contemporary British politics
Destined to become the benchmark for anyone wanting to know anything about the Conservative Party since Thatcher