The Construction and Cumulation of Knowledge in International Relations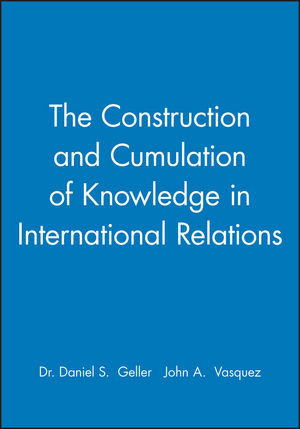 The Construction and Cumulation of Knowledge in International Relations
ISBN: 978-1-405-13245-9
Aug 2005, Wiley-Blackwell
188 pages
Description
The Construction and Cumulation of Knowledge in International Relations explores the construction and cumulation of knowledge within the scope of international relations inquiry.

Editor John A. Vasquez is a former president of the International Studies Association

Smartly addresses the issue of international relations from the bottom-up through an examination of the construction and cumulation of knowledge

An ideal companion text for the study and discussion of current issues in international relations
Part I: The Construction of Knowledge
.
1. Knowledge, Foundations, Politics: Karena Shaw (University of Victoria).
2. The House of IR: From Family Power Politics to the Poisies of Worldism: Anna M. Agathangelonu (University of Houston, Clear Lake) and L.H.M. Lin (New School University).
Part II: The Cumulation of Knowledge.
3. Escalation: Competing Perspectives and Empirical Evidence: Russell J. Leng (Middlebury College).
4. Politically-Motivated Opposition to War: Jack S. Levy (Rutgers University) and William F. Mabe, Jr. (Rutgers University).
5. Territoriality and War in International Crises: Theory and Findings, 1918-2001: Hemda Ben-Yehuda (Bar-Ilan University).
6. Pacifism and Fightaholism in International Politics: A Structural History of National and Dyadic Conflict, 1816-1992: Zeev Maoz (Tel-Aviv University).
Part III: Policy Application.
7. The Consequences of an Indo-Pakistani Nuclear War: Robert T. Batcher (Office of Technology and Assessments, US Department of State).
8. Integrating Theory and Policy: Global Implications of the War in Iraq: Jacek Kugler (Claremont Graduate University), Ronald L. Tammen (Portland State University), and Brian Efird (Claremont Graduate University)


Editor John A. Vasquez is a former president of the International Studies Association


Smartly addresses the issue of international relations from the bottom-up through an examination of the construction and cumulation of knowledge


An ideal companion text for the study and discussion of current issues in international relations