The Consultant's Manual: A Complete Guide to Building a Successful Consulting Practice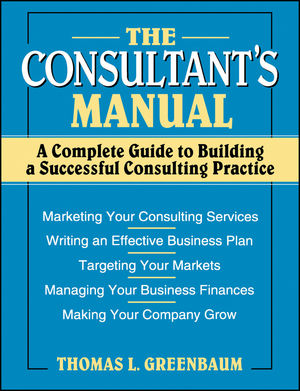 The Consultant's Manual: A Complete Guide to Building a Successful Consulting Practice
ISBN: 978-0-471-00879-8 March 1994 240 Pages
Description
The Consultant's Manual If you're serious about starting your own consulting practice, there's something you should know . . No matter how knowledgeable you are in your field.. No matter how expert your advice or impressive your credentials.. If you don't bring an air of consummate professionalism to every phase of your practice--from proposal-writing and fee-setting, to drawing up contracts and issuing reports--you'll almost definitely lose out to the professional who does. But don't worry, because with Tom Greenbaum and The Consultant's Manual in your corner, you can make sure that never happens! Growing out of the author's Harvard consulting course, this book offers level-headed, expert advice on virtually every practical aspect of starting, building, and marketing your consulting practice. Centered around the theme of developing and working an exhaustive business plan for your firm, it leads you step-by-step through the research, planning, and problem-solving stages. Positioning your firm, giving it a name, targeting your market, establishing a sales culture, maintaining top-flight customer service, cash flow, billing, and fee setting . it's all in here, and much more.
Table of contents
PLANNING.

Marketing Your Consulting Service.

Should You Enter the Consulting Business?.

The Business Plan.

Defining the Business.

Developing a Company Identity.

Planning Your Company's Finances.

IMPLEMENTATION.

Building Awareness of Your Business--Direct Methods.

Building Awareness of Your Business--Indirect Methods.

Developing a Brochure.

Selling Your Consulting Services.

The Consulting Proposal.

Handling Objections.

Service in a Consulting Business.

The Ethics of the Consulting Business.

Index.