The Consulting Bible: Everything You Need to Know to Create and Expand a Seven-Figure Consulting Practice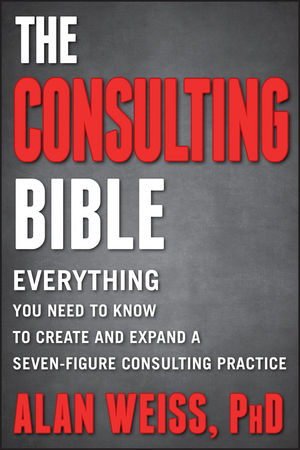 The Consulting Bible: Everything You Need to Know to Create and Expand a Seven-Figure Consulting Practice
ISBN: 978-1-118-02361-7 February 2011 288 Pages
Description
Everything you need to know about building a successful, world-class consulting practice

Whether you are a veteran consultant or new to the industry, an entrepreneur or the principal of a small firm, The Consulting Bible tells you absolutely everything you need to know to create and expand a seven-figure independent or boutique consulting practice. Expert author Alan Weiss, who coaches consultants globally and has written more books on solo consulting than anyone in history, shares his expertise comprehensively.
Learn and appreciate the origins and evolution of the consulting profession
Launch your practice or firm and propel it to top performance
Implement your consulting strategies in public and private organizations, large or small, global or domestic
Select from the widest variety of consulting methodologies
Achieve lasting success in your professional career and personal goals
The author is recognized as "one of the most highly regarded independent consultants in America" by the New York Post and "a worldwide expert in executive education" by Success Magazine
Whether you're just starting out or looking for the latest trends in modern practice, The Consulting Bible gives you an unparalleled toolset to build a thriving consultancy.
Introduction.
Section I Genesis: Consulting as a Profession.
Chapter 1. Origins and Evolution: From Whence We Came.
Chapter 2. Creation: How to Establish and Improve Your Firm's Presence.
Chapter 3. Philosophy: What You Believe Will Inform How You Act.
Section II Exodus: Consulting as a Business.
Chapter 4. The Journey: How to Market Your Value Rapidly and Profitably.
Chapter 5. Presence: How to Be an Authority and Expert.
Chapter 6. Celebrity: How to be the Authority and Expert.
Section III Deuteronomy: Consulting Methodology.
Chapter 7. The Perfect Proposal: How to Write a Proposal That's Accepted Every Time.
Chapter 8. Implementation: Magic Formula: Rapid Results with Low Labor Intensity.
Chapter 9. Disengaging: It's Been Nice, but I Really Must Be Going.
Section IV Acts of the Apostles: Implementing Consulting Methodologies.
Chapter 10. Interpersonal Methodologies: People First.
Chapter 11. Teams and Groups: No One Is an Island.
Chapter 12. Organization Development: All the King's Horses, and All the King's Men . . .
Section V Proverbs: Consulting Success.
Chapter 13. Ethics of the Business: What's Legal Isn't Always Ethical.
Chapter 14. Exit Strategies: Nothing Is Forever.
Chapter 15. Payback and Reinvestment: We Build Our Houses and Then They Build Us.
Physical Appendix.
Virtual Appendix.
About the Author.
Index.