The Consulting Process in Action, 2nd Edition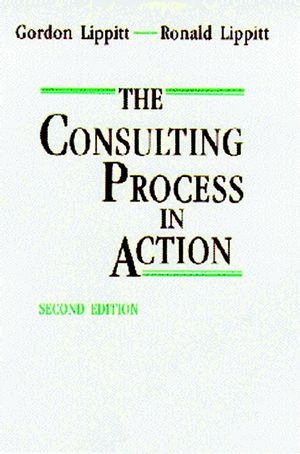 The Consulting Process in Action, 2nd Edition
ISBN: 978-0-883-90201-1 November 1994 Pfeiffer 224 Pages
Description
A how-to guide for consultants

Here is the accumulation of 35 years of work of two men who havehelped shape the training and development field. Teachers,trainers, consultants, and continual learners themselves, theauthors share their repertoire of concepts, strategies, andtechniques.

The function of consultants is part of the role and function of allthose who lead, direct, teach, or interact as friAnds and peerswith others.
--Gordon and Ronald Lippitt, authors

The authors identify the six phases of almost any consultant-clientworking relationship:

* Engaging in initial contact and entry
* Formulating a contract and establishing a helpingrelationship
* Identifying problems through diagnostic analysis
* Setting goals and planning for action
* Taking action and cycling feedback
* Completing the contract

This book emphasizes the role of the consultant?internal orexternal?in an organizational setting. You'll learn to recognizethe most appropriate, effective, and credible route to solvingalmost any consulting conundrum. You'll use every chart, checklist,and reference in this work to improve your own jobperformance.

Learn to:

* Recognize the phases in consulting
* Cope with ethical dilemmas
* Assess and evaluate your projects
* Consult in internation settings
* Facilitate change...and much more!

You might call yourself a consultant.
You might not. Regardless, you'll find yourself better equippedfor any business interaction when you have this book at yourside.

Table of contents:

* Consultation: An Expanding Process **Phases in Consulting**Interventions: Making Decisions and Ensuring Quality **ConsultantRoles **Ethical Dilemmas and Value Guidelines **DesigningParticipative Learning **Diagnostic Analysis, Progress Assessment,and Evaluation **Examples of Consultation in Action **Guidelinesfor International Consulting **Skills, Competencies, andProfessional Development **The Consultant as Change Facilitator**Implications for the Future of Consulting
Table of contents
Preface.

Consultation: An Expanding Process.

Phases in Consulting.

Interventions: Making Decisions and Ensuring Quality.

Consultant Roles.

Ethical Dilemmas and Value Guidelines.

Designing Participative Learning.

Diagnostic Analysis, Progress Assessment, and Evaluation.

Examples of Consultation in Action.

Guidelines for International Consulting.

Skills, Competencies, and Professional Development.

The Consultant As Change Facilitator.

Implications for the Future of Consulting.

Annotated Bibliography.