The Consumer Society Reader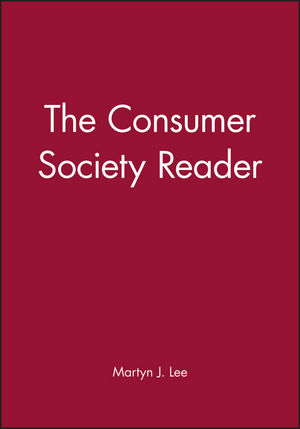 The Consumer Society Reader
ISBN: 978-0-631-20798-6 April 2000 Wiley-Blackwell 352 Pages
Description
The Consumer Society Reader is the most substantial collection of classic and contemporary readings on consumption and consumer society for students of cultural studies and sociology of culture. From Karl Marx to Jean Baudrillard, the volume introduces students and researchers to the topics, themes, and preoccupations of twentieth-century consumer culture.
Table of contents
Preface.
Introduction. .
Part I: Theoretical and Conceptual Foundations.
1. Estranged Labour (Karl Marx).
2. The Fetishism of the Commodity and its Secret (Karl Marx).
3.Beyond Use Value (Jean Baudrillard).
4. Conspicuous Consumption (Thorstein Veblen).
5. The Puzzle of Modern Consumerism (Colin Campbell).
6. The Uses of Goods (Mary Douglas and Baron Isherwood).
7. Introduction to Distinction (Pierre Bourdieu).
8. Lifestyle and Consumer Culture (Mike Featherstone).
9. Object Domains, Ideology and Interests (Daniel Miller).
10. Object as Image: the Italian Scooter Cycle (Dick Hebdige).
11. "Making Do": Uses and Tactics (Michel de Certeau).
Part II: The Character of the Consumer Society.
12. Looking Backwards (Don Slater).
13. Assembling a New World of Facts (Stuart Ewen).
14. Was There Love on the Dole (Gary Cross).
15. A Child's Cartography (Sharon Zukin).
16. The Dependence Effect (John Kenneth Galbraith).
17. Vance Packard: "Growthmanship" (Vance Packard).
18. Textiles: The Fabric of Life (Ernest Dichter).
19. A New Language (Jean Baudrillard).
20. Aesthetic Abstraction of the Commodity: Surface-Package-Advertising Image (Wolfgang Fritz Haug).
21. The Bonding of Media and Advertising (William Leiss, Stephen Kline, and Sut Jhally).
22. The Characteristic Mode of Consumption of Fordism (Michel Aglietta).
23. Theorizing the Transition (David Harvey).
24. The Politics of Consumption (Frank Mort).
25. The Commodities of Culture (John Fiske).
26. Dupes and Guerillas: The Dialectics of Cultural Consumption (John Clarke).
27. Sovereign Consumption (Jim McGuigan).
28. The Promotional Condition of Contemporary Culture (Andrew Wernick).
Name Index.
Subject Index.
Reviews
"Cleverly selected and lucidly introduced, this collection of readings offers a solid and engaged resource that should be indispensable for courses in this area across a wide range of disciplines. Martyn Lee's work will help students find their way through the overgrown jungle of consumption studies to its most important paths."
Don Slater
,
Goldsmiths College, University of London
"Comprehensive and authoritative, this collection constitutes a survival kit for teachers and researchers working in the field of consumer society." Chris Rojek, Nottingham Trent University
<!--end-->
What's New
? Most substantial collection of classic and contemporary essays on consumer culture and consumption.
* Broad range of contributors: from Karl Marx, John Kenneth Galbraith, and Vance Packard to Dick Hebdige and the inimitable Jean Baudrillard.
* Accessible presentation of material makes it appropriate for advanced undergraduates and graduate students of popular culture, sociology of culture and cultural studies.
* Thorough reference on the subject for scholars in sociology and cultural studies.