The Consumption of Mass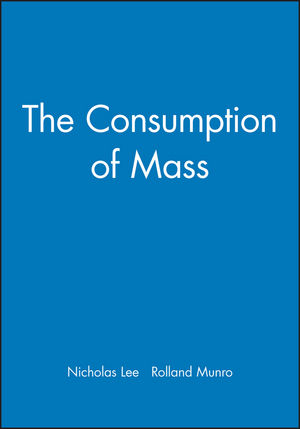 The Consumption of Mass
ISBN: 978-0-631-22819-6
Oct 2001, Wiley-Blackwell
320 pages
Product not available for purchase
Description
Arguing that mass is key to understanding the materialisation of social relations, this collection opens up contemporary thinking about identity, choice and values. With new contributions by Zygmunt Bauman, Robert Cooper and Dan Rose, these twelve innovative papers draw together debates on social theory, community, materiality and consumption.
Part I - Imagining Mass.
Chapter 1 - Individuality and Susceptibility: The Consumption of Agency in Social Structures, Barry Barnes, University of Exeter.
Chapter 2 - Pass the Salt: Materiality and the Production of Mass for Consumption, Dan Rose, University of Pennsylvania.
Chapter 3 - Consuming Mass: Mutability and Consumption, Robert Cooper, Keele University.
Part II - Community and Mass.
Chapter 4 - The Consumption of Masses: Calculating Community for Maximum Impact and Instant Obsolescence, Zygmunt Bauman, Leeds University (Emeritus).
Chapter 5 - Ordering Otherness: The Consumption and Disposal of Others, Christina Palli Monguilod, Aotonoma University.
Chapter 6 - The Waiting of Mass: Individuality and the Process of Double Forgetting, Rolland Munro, Keele University.
Part III - Writing and Mass.
Chapter 7 - All Consuming Passions: The Refiguiring of Subjectivity in later Twentieth Century Discourses of Consumption, Joanna Latimer, Keele University.
Chapter 8 - The Mystery of the Assumption: Women's Writing and Endless Consumption, Heather Hopfl, Bolton .
Chapter 9 - The Consumption of Mass: Interpreting Luck and the Mass Average, Jane Parish, Keel University.
Part IV - Performing Mass.
Chapter 10 - The Consumption of Vagrancy, Thomas Bay and Per Backius, University of Stockholm.
Chapter 11 - The Consumption of Bass: Techno's Funky Alien and the Contusion of Mass, Rob Beeston, Keele University.
Chapter 12 - Border Blues: Maastricht and Dada Disorder, Robert Grafton Small, Keel University
"Taken together, the chapters increase understandings about occurrences in which relations are embodied and mobilized, and explore the 'unconsumable' in terms of what/who is excluded." Socilogy: History and Theory