The Contemporary British Society Reader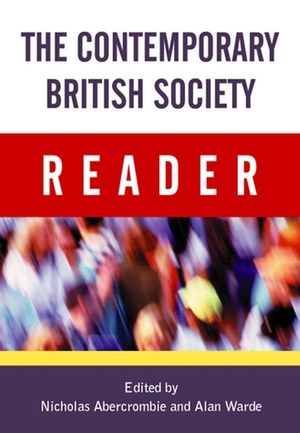 The Contemporary British Society Reader
ISBN: 978-0-745-62263-7 February 2001 Polity 376 Pages
Download Product Flyer
Download Product Flyer
Download Product Flyer is to download PDF in new tab. This is a dummy description. Download Product Flyer is to download PDF in new tab. This is a dummy description. Download Product Flyer is to download PDF in new tab. This is a dummy description. Download Product Flyer is to download PDF in new tab. This is a dummy description.
Description
This exciting new reader brings together some of the best recent sociological writing on British society. The volume features carefully selected extracts from books and journals, which have been chosen for the high quality of their sociological analysis and their relevance to understanding social change.
Thematically organized, the volume gives wide coverage to a range of key topics in sociology, including globalization, class and inequality, gender, ethnicity, the media, leisure and consumption. It also provides students with an interesting introduction to a variety of social science research methods, from ethnographies and in-depth interviews to observation and surveys. Most of the chapters are based on recent empirical research, and therefore capture in detail some of the more distinctive features of life in Britain at the turn of the millennium.

Read alone, or in conjunction with the third edition of the best-selling textbook, Contemporary British Society, this book provides the newcomer to sociology with a fascinating introduction to social life in Britain and a taste of the excitement and complexity of original research and analysis.
Table of contents
Preface: How to use this book.
Acknowledgements.
1. Changing Britian. .
Part 1 Globalization.
2. Global economy (Peter Dicken).
3. Local interpretations of global music (Andy Bennett).
4. The framing of Scottish national identity (Frank Bechhofer, David McCrone, Richard Kiely and Robert Stweart).
5.Local and global political protest (Sasha Roseneil).
Part 2 Social Divisions.
6.The restructuring of work since 1980 (Duncan Gallie, Michael White, Yuan Cheng and Mark Tomlinson).
7.The persistence of class inequalities (John Westergaard).
8.The condition of the contemporary middle classes (Mike Savage).
9. In search of a British underclass (Fiona Devine).
10.Women at work in the City of London (Linda McDowell).
11.Work, gender and unemployment (Lydia Morris).
12. Women avoiding being working class (Women Avoiding being Working Class (Beverly Skeggs).
13. Racial harassment (Satnam Virdee).
.
Part 3 Family and Household.
14.Changing families (Sarah Irwin).
15. Divorce and the new family (Carol Smart).
16. British youth cultures in the 1990s (Ken Roberts).
.
17.Family relationships and family responsibilities (Janet Finch and Jennifer Mason).
18.The local networks of the elderly (Chris Phillipson, Miriam Bernard, Judith Phillips and Jim Ogg).
Part 4 Fragmentary Cultures.
19. The dance music industry (David Hesmondhalgh).
20.The transformation of the British Press (Brian McNair).
21.Food and class (Alan Warde).
22.The relationship between television and real life in a London Punjabi community (Marie Gillespie).
23. Shopping and the work of femininity (Celia Lury).
24. Consumption, tribes and identity (Kevin Hetherington).
Part 5 Old and New Politics.
25. The political implications of the 1997 General Election (David Sanders).
26. The social backgrounds of MPs (Pippa Norris and Joni Lovenduski).
27.Sexuality and citizenship (Diane Richardson).
28. Social class and choice of secondary schooling (Sharon Gewirtz, Stephen Ball and Richard Bowe).
29. Student peer groups and Masculinity (Mairtin Mac an Ghaill).
30.Women's careers in teaching (Sandra Acker).
31.Inequalities in Health (Independent Inquiry into Inequalities in Health).
32. New Public attitudes and the NHS (K. Judge, J.-A. Mulligan and B.).
33. Juvenile Crime (Anne Worrall).
34. Moral Panics about sex and AIDS (Kenneth Thompson).
Index.
Reviews
Up-to-date, relevant and chosen with care, this collection is essential reading for students and their teachers.' Stephen Hill, Professor of Sociology, London School of Economics
Features
Features selections from the very best contemporary work on British SocietyFully up-to-date, includes a whole host of readings on current themes eg. globalization and consumption, as well as solid coverage of more traditional topicsIncludes a substantial introduction to the volume and commentaries on each pieceEasy to use and extensively cross-referencedUseful companion volume to a major text book - Contemporary British
Society (3rd ed.)