The Craft of Teaching: A Guide to Mastering the Professor's Art, 2nd Edition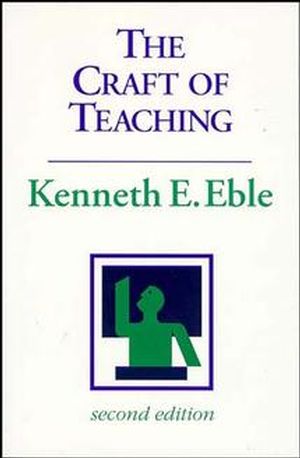 The Craft of Teaching: A Guide to Mastering the Professor's Art, 2nd Edition
ISBN: 978-1-555-42664-4 March 1994 Jossey-Bass 272 Pages
Description
An immensely valuable book for young college teachers... and it has much to say to teachers of all levels and ages.
?Choice

Eble's book dispenses wisdom in the form of practical advice to both beginning and seasoned professors. He believes that people can learn to be better teachers through the examination and 'unbundling' of the craft itself.
?Change
TEACHING AND LEARNING.

The Author's Stance.

The Mythology of Teaching.

Getting Students to Think.

THE SKILLS OF TEACHING.

Why the Classroom?

Making Classes Work.

The Lecture as Discourse.

Discussion.

Seminars, Tutorials, Advising, and Mentoring.

Teaching Without Teachers.

GRUBBY STUFF AND DIRTY WORK.

Texts.

Assignments.

Tests.

Grades.

Cheating, Confrontations, and Other Situations.

Motivating Students and Faculty.

LEARNING TO TEACH.

Preparing College Teachers.

Being a Teacher.
``An immensely valuable book for young college teachers.. and it has much to say to teachers of all levels and ages.''

``Eble's book dispenses wisdom in the form of practical advice to both beginning and seasoned professors. He believes that people can learn to be better teachers through the examination and `unbundling' of the craft itself.'' (Change)