The Creation of a University System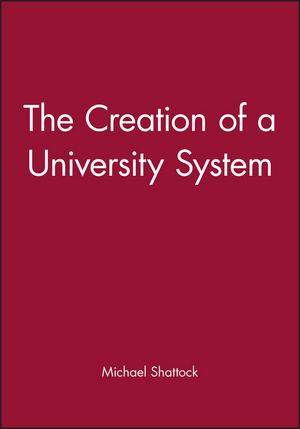 The Creation of a University System
ISBN: 978-0-631-20300-1
Mar 1997, Wiley-Blackwell
224 pages
Description
This volume brings together a selection of articles published over the fifty year life of the Universities/Higher Education Quarterly which provides a critical overview of the development of university and non-university higher education over the post-War period and of the policy debates which occurred at various points.
Preface.
The Creation of the British University System: Michael Shattock (University of Warwick).
Part I: There is no University 'System' in Britain: .
1. The Universities and the Government: Ernest Simon.
2. A Historical Document: Statement by the Committee of Vice-Chancellors and Principals 1946: Editorial.
3. Student Numbers 1911 to 1971: Ernest Simon.
4. University Admissions: Report of an Inquiry: R. K. Kelsall.
5. British Universities and Intellectual Life: A. H. Halsey.
6. The Growth of Higher Education: S. Zuckerman.
7. Too Few Academic Eggs: B. V. Bowden.
8. Observations on the American University: Edward Shils.
Part II: Robbins and After: .
9. First Reactions to the Robbins Report: Charles Morris.
10. The Academic Hierarchy: Robbins, Appendix Three: A. H. Halsey.
11. A Question of Size and Shape: Martin Trow.
12. Review of the Uses of the University : Charles Morris.
13. Notes on New Univerisities: British and American: David Riesman.
14. Dualism in Higher Education: Peter Venables.
15. The Education of Ministers of State: Alec Merrison.
Part III: The Assertion of State Control: .
16. University Financing 1979-86: Peter Moore.
17. Academic Standards and Mass Higher Education: Martin Trow.
18. Policy on Higher Education and Research: Peter Swinnerton-Dyer.
19. Elegant and Democratic Values: Will the New English Universities Gel: Christopher Price.
20. Reflections on the British Government and Higher Education: Richard Bird.
21. The White Paper - Higher Education: A New Framework: Editorial.
"Provides useful background information which will help fuel vigorous, well-informed and open-minded debate on the future of higher education into the 21st century" New Scientist
* Tackles current policy dilemmas in higher education.
* Presents a series of alternative views in their historical context.