The Credit Diet: How to Shed Unwanted Debt and Achieve Fiscal Fitness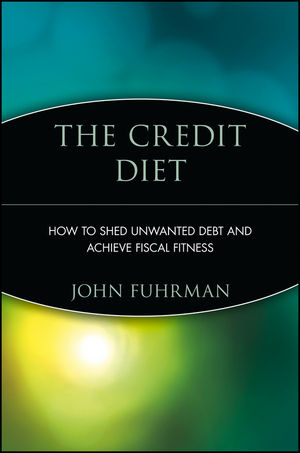 The Credit Diet: How to Shed Unwanted Debt and Achieve Fiscal Fitness
ISBN: 978-0-471-44595-1
Nov 2002
223 pages
Product not available for purchase
Description
"You'll treasure the practical insights and the useful tips in this book. You'll think differently, act smarter, and increase your wealth by learning John Furhman's ideas."
-Nido R. Qubein
Chairman, Great Harvest Bread Co.
Founder, National Speakers Association Foundation

It's no big surprise that each year thousands of people fall into debt. What is shocking is that many of us accept the fact that we could be in debt for the rest of our lives. John Fuhrman should know because he has been there, but he decided to put a plan together that would eliminate debt from his life for good.

In The Credit Diet: How to Shed Unwanted Debt and Achieve Fiscal Fitness, award-winning speaker and bestselling author John Fuhrman uses his personal life experience of overcoming debt to provide you with a practical and easy-to-follow road map that will help you to rise above your current financial situation and take the necessary action to remove debt from your life.
Why I Wrote This Book.

Introduction.

Prologue.

Part One: YOU RE NOT ALONE.

ONE: We All Start Somewhere.

Don t Bank on It.

Compound Interest Thriller or Killer.

Everyone Has Their Own Wake-up Call.

Every Little Bit Helps.

The Moment of Success.

TWO: Where the Trouble Begins.

The Hidden Cost of Credit When to SayI Can t.

The Simpler Life.

Faster (Instant Gratification) Costs More.

If You Don t Train Yourself,Advertisers Will.

Is Being in Debt Really a Serious Situation?

THREE: Would You Still Do It If . . . ?

How Are You Supposed to Know?

Too Much of a Good Thing?

Have You Added Fuel to Your Own Fireof Debt?

Go for Elimination of Annual Fees andLower Interest Rates.

Businesses and Banks Have Their Own Agenda.

FOUR: A Case Study Jane Debt.

An Example to Help You Understand.

After the First 90 Days.

The Second 90 Days.

Now the Excitement Starts.

FIVE: Thinking Wealthy.

Freedom Means Options.

Real Possibilities to Prepare For.

Rethinking What Wealth Is.

How Else Could Wealth Affect Your Life?

Wealth Means Control.

If There Were Only One Question to Ask.

Part Two: THE MULTIPLE ACCOUNT PRINCIPLES.

SIX: Why Multiple Accounts?

We Get What We Think About!

How We Started.

Why Not Just One Account on Paper?

Where Does This Money Come From?

Where Not to Put All Your Eggs.

Money versus Finance.

SEVEN: The Cash Flow Account.

Does It Seem to Be Spent Before You Get It?

Change Your Mind about Money.

EIGHT: The Permanent Wealth Account.

A New Feeling of Security.

Why Is the Permanent Wealth AccountSo Powerful?

The Fun of Finance.

What Is Permanent Wealth?

NINE: The Totally Fun Account.

The Reward Should Equal theContribution.

Did You Ever Diet?

Setup.

How to Double Your Fun.

What You Think About Happens.

TEN: The Future Growth Account.

Will You Make Enough?

You Need an Employee.

Why Many Investments Don t Work.

How Much Do You Need to Haveto Invest?

A Powerful Money Rule.

Worry-Free Investing.

ELEVEN: The Income Security Account.

Fact-of-Life Financing.

A Real Paid Vacation.

What About Along the Way?

Follow Your Dream The MoneyWill Come.

You Can Do It Sooner ThanYou Think.

The Past Does Not Equal the Future.

TWELVE: The Debt Elimination Account.

Chains That Bind.

Your Only Temporary Account.

The Setup.

Start Small.

It Keeps Getting Better.

Working with Finance.

Don t You Need Credit Cards to Live Today?

Let s Recycle.

Part Three: POWERFUL CHANGES.

THIRTEEN: Start Small.

You Can t Get Rich without It.

A Change with Change.

Habits That Make You Grow.

FOURTEEN: Creating Wealth.

Digging for Wealth at Home.

Use Your Imagination.

Remember Before You Act.

FIFTEEN: Speeding Up the Process.

Can You Find Some Extra Money?

Make Them Earn Your Business.

Something You Should Subscribe To.

What About Increasing Income?

What Else Can You Do?

One Last Option.

Use Your Imagination.

Part Four: PRACTICAL ADVICE.

SIXTEEN: It Has to Be Fun.

A Game or Another Job?

Use Your Imagination.

Three Ideas a Day.

Focused Fun and the Refrigerator.

SEVENTEEN: The Two-Year Rules.

You Can t Just Try.

Two-by-Two.

Sell, Sell, Sell.

Moving Investments.

Part Five: THE MAP.

EIGHTEEN: History.

The Six Accounts.

Paying Off Debts.

This Is Worth It Because . . .

What About the Kids.

It Doesn t Stop Here.

Sharing without Giving.

Questions You Need.

NINETEEN: Additional Tables and Support Items.

Some Eye-Opening Examples.

The Ultimate Goal.

Freedom in Less Than a Third of the Time.

Tools That You Can Use.

Resources for the Future.

Fifteen Minutes a Day.

What I ve Read.

Positive Changes.

Materialism versus Capitalism.

Afterword.

Index.

About the Author.
Like a bad case of food poisoning, corporate malfeasance just won't go away. Columnist Don Silver stirs the corporate scandal pot in his parable about a chef who imparts the financial facts of life to his college-bound son, Cookin' the Book$: Say Pasta La Vista to Corporate Accounting Tricks and Fraud. "We think this is going to be a very big book, "says Adams-Hall marketing v-p Blair Randall. "It's a topic that's here to stay." To get Cookin' cookin', the.15-year-old company is planning a $50,000 promotional budget for this January release.
While Silver takes a humorous look at wrongdoing, political commentator Arianna Huffington provides a more sobering approach in her indictment of big corporations, Pigs at the Trough: How Corporate Greed and Political Corruption Are Undermining America (Crown, Jan.) There are light-hearted moments, however, including Huffington's P.I.Q. Test, which includes multiple choice questions on such subjects as the name of Bernie Ebbers's 60-foot yacht (Aquasition) and George W. Bush's nickname for pal Kenneth Lay (Kenny Boy).
In another Crown title out next month, Sweet Potato Boss Queen Jill Conner Browne provides plenty of food for thought on finance, and just about everything else, in her third collection of words of wisdom, The Sweet Potato Queens' Big-Ass Cookbook (and Financial Planner). Among the tips not to be found in, say, the Wall Street Journal are: "Rich old people are generally more attractive than poor old people, so by all means, try to get rich before age sets in. Otherwise, you'll just be playing catch-up for the rest of your life and that will just wear you out." Intermingled with bon mots are recipes for comfort foods like Pig Candy (bacon, brown sugar, chopped pecans) and Fried Dill Pickles.
For those whose finances could benefit from slenderizing, John Furhman offers a debt-loss plan, The Credit Diet: How to Shed Unwanted Debt and Achieve Fiscal Fitness (Wiley, Jan.), based on real examples and personal experience. -- J.R. (Publishers Weekly, December 23, 2002)