The Crusades: The Essential Readings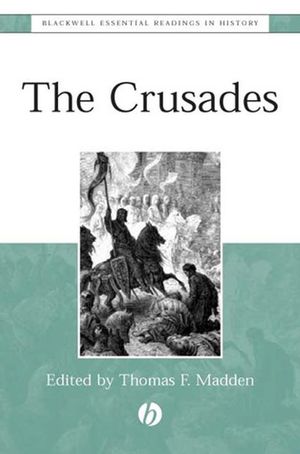 The Crusades: The Essential Readings
ISBN: 978-0-631-23023-6 July 2002 Wiley-Blackwell 290 Pages
Description
The twelve readings in this volume represent some of the best recent scholarship on the Crusades.
Table of contents
Acknowledgments.
Editor's Introduction.
Part I What Were the Crusades?.
1. Pope Urban II's Preaching of the First Crusade. (H. E. J. Cowdrey).
2. Crusading as an Act of Love. (Jonathan Riley-Smith).
3. Reconquest and Crusade in Spain, c. 1050-1150. (R. A. Fletcher).
4. Crusades Against Christians. (Norman Housley).
5. Were There Any Crusades in the Twelfth Century? (Christopher J. Tyerman).
Part II Who Were the Crusaders?.
6. Medieval Charters as a Source for the History of the Crusades. (Giles Constable).
7. Early Crusaders to the East and the Costs of Crusading, 1095-1130. (Jonathan Riley-Smith).
8. The Roots of Lay Enthusiasm for the First Crusade. (Marcus Bull).
9. Patronage and the Appeal of the First Crusade. (John France).
Part III Impact of the Crusades on the East.
10. Byzantium and the Crusades. (Steven Runciman).
11. The Reaction of Syrian Muslims after the Foundation of the First Latin Kingdom of Jerusalem. (Nikita Elisséeff).
12. The Subjected Muslims of the Frankish Levant. (Benjamin Z. Kedar).
Index.
Reviews
"Madden's new book seeks to bridge the gap between popular caricatures of the crusades and the more balanced picture of the movement that historians have been producing for more than a generation. The dozen specimens of lively recent scholarship on the crusades that Madden has assembled here are shrewdly calculated to provoke students into rethinking what they thought they knew about the crusading movement." James A. Brundage, University of Kansas <!--end-->
What's New


Brings together for the first time some of the best recent scholarship on the Crusades.


Introduces fundamental concepts of crusading to students.


Steers students through the mass of modern scholarly literature on the subject.


Focuses not on individual crusades but on the political, economic, spiritual, and demographic factors behind these medieval holy wars and on their consequences.


Includes an opening introduction summarising relevant historical events and providing an overview of the historiography as well as introductions to the entries.