The Cultural Politics of Food and Eating: A Reader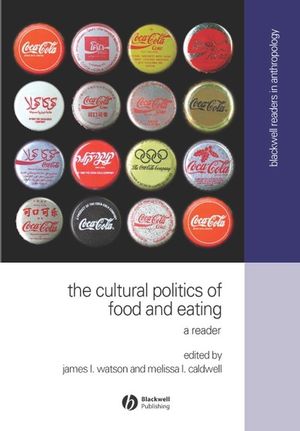 The Cultural Politics of Food and Eating: A Reader
ISBN: 978-0-631-23093-9
Dec 2004, Wiley-Blackwell
332 pages
Description
The Cultural Politics of Food and Eating offers an ethnographically informed perspective on the ways in which people use food to make sense of life in an increasingly interconnected world.

Uses food as a central idiom for teaching about culture and addresses broad themes such as globalization, capitalism, market economies, and consumption practices

Spanning 5 continents, features studies from 11 countries—Japan, China, Russia, Ukraine, Germany, France, Burkina Faso, Chile, Trinidad, Mexico, and the United States

Offers discussion of such hot topics as sushi, fast food, gourmet foods, and food scares and contamination
Acknowledgments.
Introduction: James L. Watson and Melissa L. Caldwell.
Part I: Food and Globalization:.
1. How Sushi Went Global: Theodore C. Bestor.
2. French Beans for the Masses: A Modern Historical Geography of Food in Burkina Faso: Susanne Freidberg.
3. Fresh Demand: The Consumption of Chilean Produce in the United States: Walter L. Goldfrank.
4. Coca-Cola: A Black Sweet Drink from Trinidad: Daniel Miller.
5. China's Big Mac Attack: James L. Watson.
6. Of Hamburger and Social Space: Consuming McDonald's in Beijing: Yunxiang Yan.
.
Part II: Yuppification, Gentrification, and Domesticating Tastes:.
7. Children's Food and Islamic Dietary Restrictions in Xi'an: Maris Boyd Gillette.
8. The Rise of Yuppie Coffees and the Reimagination of Class in the United States: William Roseberry.
9. Crafting Grand Cru Chocolates in Contemporary France: Susan J. Terrio.
10. Globalized Childhood? Kentucky Fried Chicken in Beijing: Eriberto P. Lozada Jr..
11. Domesticating the French Fry: McDonald's and Consumerism in Moscow: Melissa L. Caldwell.
12. "India Shopping": Indian Grocery Stores and Transnational Configurations of Belonging: Purnima Mankekar.
.
Part III: The Political Economy of Food:.
13. Food and the Counterculture: A Story of Bread and Politics: Warren Belasco.
14. Industrial Tortillas and Folkloric Pepsi: The Nutritional Consequences of Hybrid Cuisines in Mexico: Jeffrey M. Pilcher.
15. Food, Hunger, and the State: Susan Brownell.
16. The Bakers of Bernberg and the Logics of Communism and Capitalism: Hans Buechler and Judith-Maria Buechler.
17. The Global Food Fight: Robert Paarlberg.
18. Half-Lives and Healthy Bodies: Discourses on "Contaminated" Food and Healing in Post-Chernobyl Ukraine: Sarah Drue Phillips.
19. Mad Cow Mysteries: Harriet Ritvo
"Here at last is a comprehensive, thoroughly absorbing reader on contemporary culinary tastes and techniques. No student of food, globalization, or political economy can afford to overlook this valuable collection."
Stanley Brandes, University of California, Berkeley
"A fascinating collection of essays that ranges from everyday food consumption to the global politics of food. The analyses yield surprising insights into familiar products and the social world of which they are such an important part. While the book, unlike its subjects, is inedible, it is highly readable and intellectually nutritious." George Ritzer, University of Maryland

"...provides fascinating glimpses of the behind-the-scene world of global food distribution and economics and their societal impacts on people living very different lives on opposite ends of the world" Journal of Sensory Studies

"The book provides a fascinating journey through the politics, economics and culture of food in a globalized society...this book is a gold mine of thought-provoking facts, ideas and concepts...a literary delight." Journal of Sociolinguistics

"A good tool for an introductory course on culture and society or perhaps a more advanced course on food, politics and global movements." Social Anthropology


Uses food as a central idiom for teaching about culture and addresses broad themes such as globalization, capitalism, market economies, and consumption practices

Spanning 5 continents, features studies from 11 countries—Japan, China, Russia, Ukraine, Germany, France, Burkina Faso, Chile, Trinidad, Mexico, and the United States

Offers discussion of such hot topics as sushi, fast food, gourmet foods, and food scares and contamination