The Culture Wars: How American and Japanese Businesses have Outperformed Europe's and why the Future will be Different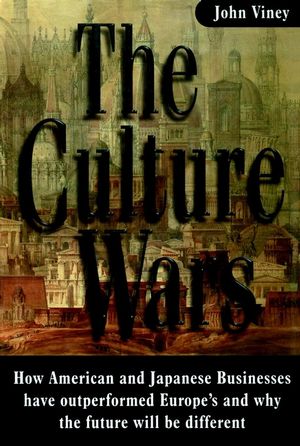 The Culture Wars: How American and Japanese Businesses have Outperformed Europe's and why the Future will be Different
ISBN: 978-1-841-12668-5
Jan 2005, Capstone
288 pages
Description
"Through his job of placing the leading European men and women in their jobs, John Viney understands their motivation and capabilities and thus has a unique "insider's view" of our developing European business culture."
—Sir John Egan, Chief Executive, BAA plc

"This is a thoughtful provocative book on the critical business issues for Europe and what lies at the heart of Europe. It discusses whether in the 21st Century it can be competitive with the rest of the world. The answer in The Culture Wars is "yes" and what's more it tells us what needs to be done."
—Colin M. Sharman, Chairman, KPMG International

"In The Culture Wars John Viney tackles one of the most important issues of our time, how Europe can meet the global competitiveness challenge at a time when the world economy is being transformed by technology, communications and free trade. He rightly points out that Europe cannot win simply by trying to ape the Japanese, American or even the German model. If Europe is to win in the new millennium, it will need to develop its own unique and successful business culture. Me tooism will be insufficient."
—John Jay, Managing Editor, Business News and City Editor, The Sunday Times

"The Culture Wars puts the cause for Europe in a different light. It does not talk much about politics or monetary union but concentrates rather on hard-nosed business issues. Thus, this business book is both compelling and highly relevant."
—Cob Stenham, Chairman, Arjo Wiggins Appleton plc
Foreword by Karl Otto Pöhl.
Acknowledgements.
Introduction: Towards the Twenty-First Century.
United by Difference: The Formation of a European Identity.
The Business of America is Business: A Consideration of How America Gained its Business Hegemony.
Miracle Workers: Development of the Japanese and German Economies.
Knowing the Field: The Asian Runners and Riders.
Towards a Definition of a European Company.
Confronting Culture.
The Cultural Iceberg: A Guide to Cultural Difference both Above and Below the Surface.
European Culture: Asset or Liability?
Europe: The Practical Realities.
Conclusion.
Bibliography.
Index.