The Culture of Cynicism: American Morality in Decline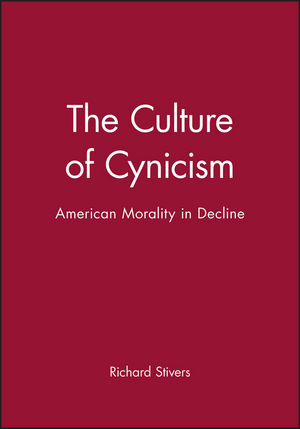 The Culture of Cynicism: American Morality in Decline
ISBN: 978-1-557-86533-5
Aug 1994, Wiley-Blackwell
224 pages
Description
In 1987, Professor Richard Stivers was the recipient of an Earhart Foundation research fellowship to undertake a study of American morality. The Culture of Cynicism is the result. It is not only the most wide-ranging book yet written on the subject, tracing the intellectual history of American morality from its European origins in the Middle Ages to the 1990s, but alos by far the most thought-provoking.
Preface.
1. The Absence of Morality, or Morality Assumes New Forms.
2. Success Morality: From Economic to Political Ideology.
3. A Morality of Happiness and Health: Advertising as Liturgy.
4. From the Moral to the Technical: the Necessary.
5. From the Moral to the Normal: the Ephemeral.
6. From the Moral to the Visual: the Compensatory.
7. A Morality of Power, A Morality Without Meaning.
8. Against the New Morality.
"A bitingly powerful critique of American morality: Stivers's analysis is keen, penetrating, devastating." Professor Andrew M. Greeley, The University of Chicago
* The most wide-ranging discussion of American morality for a decade.
* Stivers argues compellingly that America has now become a Culture of Cynicism, but suggests a way forward.