The Culture of Markets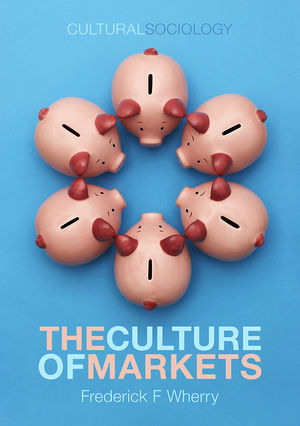 The Culture of Markets
ISBN: 978-0-745-65680-9
Apr 2013, Polity
152 pages
Description
What are the logics of pricing, and why do some pricing schemes defy standard economic expectations? What explains the different labor market outcomes of people who receive the same training from the same place and who have similar grades? Why do national governments issue statements about the country's history and personality when developing economic policies, and why are struggles over the images pictured on money so hard fought?

This engaging book locates the answers to these and other questions in the cultural logics and dynamics that constitute and guide markets. Using clear prose and illustrative examples, Frederick F. Wherry demystifies what culture is, and how it can be identified both in the way that markets are organized and in the way that people operate within them.

The Culture of Markets offers a comprehensive introduction to the puzzles found in studies of markets and to the ways that cultural analyses address those puzzles. The clarity of the arguments will make this a welcome resource for upper-level students of cultural sociology, economic sociology, and business/marketing.
Introduction: Culture, Markets, and Economic Life
Chapter 1: The Cultural Roots of Market Demand
Chapter 2: The Cultural Dimensions of Market Supply
Chapter 3: The Culture of Money and Prices
Chapter 4: How to Conduct Cultural Analyses of Markets
Conclusion: Towards a Cultural Sociology of Markets
"Fred Wherry elegantly introduces students to the cultural approach in economic sociology. Wearing his theoretical sophistication lightly, Wherry provides dozens of pithy illustrations from cutting-edge empirical research. This classy essay is deceptively simple. It provides the first synthetic construction of the cultural-economic field."
Jeffrey C. Alexander, Yale University
"Engaging and insightful, Frederick Wherry's The Culture of Markets brings together two allegedly separate worlds: markets and culture. Ranging from studies of corporations and households to art markets and more, the book surprises and instructs. A must read not only for specialists but for anyone interested in learning how the economy really works."
Viviana A. Zelizer, Princeton University
"This is an excellent book by one of today's most creative economic sociologists, Frederick Wherry. The key argument is that culture affects markets in ways that economics simply cannot capture. Exactly how does this happen? For the answer - which is surprising! - you have to read the book. Perfect for use as a textbook at the undergraduate level, but also of much interest to the general reader and graduate students."
Richard Swedberg, Cornell University
Develops an exciting new cultural approach to the study of markets that helps to explain some of the puzzles and oddities in the way markets work.
Reveals the important and implicit role that cultural dynamics play in the way markets are organized and the way people operate within them.
Brings valuable and trendy insights from the field of cultural sociology to bear on topical questions of the economy.
Written with clarity and illustrated with illuminating examples to provide a creative and engaging overview.