The Cultures of Cities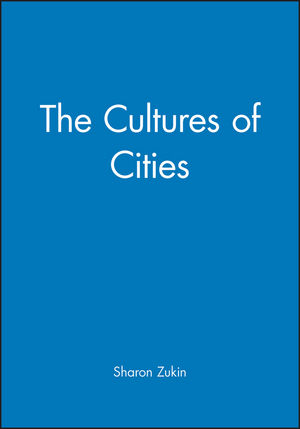 The Cultures of Cities
ISBN: 978-1-557-86437-6 January 1996 Wiley-Blackwell 338 Pages
Download Product Flyer
Download Product Flyer
Download Product Flyer is to download PDF in new tab. This is a dummy description. Download Product Flyer is to download PDF in new tab. This is a dummy description. Download Product Flyer is to download PDF in new tab. This is a dummy description. Download Product Flyer is to download PDF in new tab. This is a dummy description.
Description
How do cities use culture today? Building on the experience of New York as a "culture capital" Sharon Zukin shows how three notions of culture - as ethnicity, aesthetic, and marketing tool - are reshaping urban places and conflicts over revitalization. She rejects the idea that cities have either a singular urban culture or many different subcultures to argue that cultures are constantly negotiated in the city's central spaces - the streets, parks, shops, museums, and restaurants - which are the great public spaces of modernity.
While cultural gentrification may contribute to making our cities both safer and more civilised places to live, it has its darker side. Beneath the perceptions of "civility" and "security" nurtured by cultural strategies, Zukin shows an aggressive private-sector bid for control of public space, a relentless drive for expansion by art museums and other non-profit cultural institutions, and an increasing redesign of the built environment for the purposes of social control.
Tying these developments to a new "symbolic economy" based on tourism, media and entertainment, Zukin traces the connections between real estate development and popular expression, and between elite visions of the arts and more democratic representations. Going beyond the immigrants, artists, street peddlers, and security guards who are the key figures in the symbolic economy, Zukin asks: Who really occupies the central spaces of cities? And whose culture is imposed as public culture?
Combining cultural critique, interviews, autobiography and ethnography, The Culture of Cities is a compelling account of the public spaces of modernity as they are transformed into new, more troubling landscapes.
Table of contents
Preface.
1. Whose Culture? Whose City?.
2. Learning From Disney World.
3. A Museum In The Bershires.with Philip Kasinitz.
4. High Culture and Wild Commerce in New York City.
5. Artists And Immigrants In New York City Restaurants with.
6. While The City Shops.
7. The Mystique Of Public Culture.
References.
Index.
Reviews
"
The Culture of Cities
gives a tremendous boost to urban cultural analysis. Full of fresh details and original thought, it should significantly influence the whole discourse on cities and culture."
Harvey Molotch, co-author of Urban Fortunes
"Sharon Zukin has written a penetrating and nuanced portrait of the displacement of planning by marketing in our cities, of the ways in which they extend and increasingly depend on the spurious automations of culture that have become America's most important product. What makes her book especially rare, though, are her recordings of the ways these cultural superposition's reverberate in the life of the street, the negotiations and compromises forced on the real lives of people harried by this symbolic economy and its seemingly inexorable co-optation of the spaces of public life." Michael Sorkin
"Urban culture is the new combat zone and Sharon Zukin is our most brilliant war correspondent, whose despatches include a bizarre visit to Disney University, a behind-the-scenes exposé of chic restaurants, and the ultimate New York shopping trip." Mike Davis, author of City of Quartz
Features


Landmark study of contemporary city cultures.


Like Mike Davis's City of Quartz (Vintage) this is at the cutting edge of contemporary urban and cultural studies.


Updates and goes beyond Lewis Mumford's classic account in The Culture of Cities.
.