The Custom-Fit Workplace: Choose When, Where, and How to Work and Boost Your Bottom Line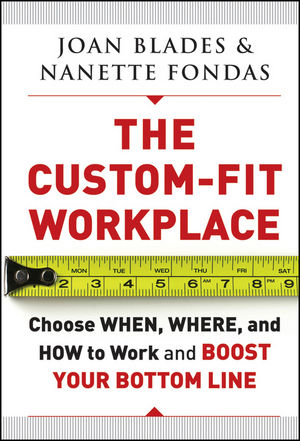 Description
Ideas for transforming the workplace to fit today's workforce



In this book, Blades and Fondas offer business professionals an indispensable handbook for transforming the way we work and breaking free from the old, inflexible, 40-hour workweek. The authors show creative ways for individuals to fit work requirements with life obligations, and persuade managers to adopt these custom-fit work strategies to improve their bottom line. Readers will finish the book convinced of the place of custom-fit work arrangements in today's workplace—and of how honoring employees' lives outside of work is an effective and innovative strategy for both managers and organizations. Featuring compelling stories of companies like Jet Blue, Ernst & Young, and Best Buy, the book profiles strategies that are gaining traction in workplaces across the country:
·        New twists on traditional flexible hours and part-time work strategies

·        Virtual workplaces

·        Results-Only Work Environments (ROWEs)

·        "Babies at Work" programs

·        "On ramp and off ramp" opportunities

Practical and engaging, The Custom-Fit Workplace provides individuals and employers the tools they need to be successful and happy both at work and in life.
1 Work Is Not Working: The Case for The Custom-Fit Workplace.
2 The Custom-Fit Workplace: Business Benefits.
3 Flexibility at Work: The Basics of Custom Fit.
4 Virtually Perfect: The Promises of Remote Work.
5 Off-Ramps and On-Ramps: Job and Career Lane Changes.
6 Contract Work and On-Demand Talent: A Fit for Some.
7 When Babies Go to Work: A Simple Solution to a Common Need.
8 A More Perfect Union: The New Face of Labor and Custom Fits.
9 From High Stress to High Commitment: Workplaces Rooted in Respect.
10 The Custom-Fit Future: Moving Forward.
Notes.
Acknowledgments.
About the Authors.
Index.
Blades (The Motherhood Manifesto) and Fondas explore the latest innovations in flexible work arrangements – from Babies-at-Work to Results-Only Environments - in this guide to the increasingly-customized workforce. The authors do a good job of portraying the multiple, and often conflicting, demands on the modern worker; children, colds, commutes, continuing education, caregiving for elders, and career ladders all compete for workers' energy, time, and attention. They point out common barriers to progress, the traditions, conventions, mistrust, and misunderstandings that prevent workers and employers from arranging a better fit. Blades, who co-founded Moms Rising, and Fondas, an award-winning journalist, come equipped with the usual success stories about novel arrangements improving productivity and profits in the workplace but offer little data to support tangible results, instead relying on stats like "a 400% increase in the number of employees who reported feeling "good" or "great" about their worklife balance." To truly convince the skeptical, more research is required. However, Blades and Fondas present a fine compendium of alternative work arrangements for managers, employees, and human resource professionals to draw from should they find convention not working. (Publishers Weekly Online, September 2010)