The Daily Disciplines of Leadership: How to Improve Student Achievement, Staff Motivation, and Personal Organization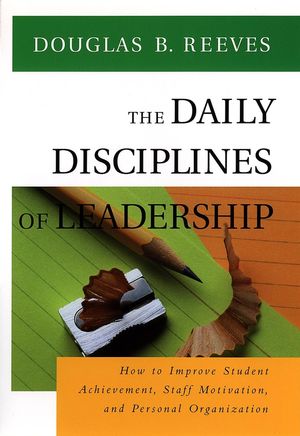 The Daily Disciplines of Leadership: How to Improve Student Achievement, Staff Motivation, and Personal Organization
ISBN: 978-0-787-96782-6
Feb 2003, Jossey-Bass
272 pages
Product not available for purchase
Description
The Daily Disciplines of Leadership is a comprehensive and down-to-earth manual for school leaders that addresses the daunting challenges that today's principals, superintendents, and teacher-leaders face on a daily basis. Written by Douglas Reeves-- a leading authority on academic standards, performance assessment, and accountability-- the information in this book is based on his extensive experience working with educators, administrators, and school board members from across the country and internationally. Reeves discusses the basic purpose of leadership, presents four key leadership archetypes, and offers practical recommendations for action. Covering a wide range of topics-- from accountability systems to personal communications-- this book will serve as the 'go to' resource for novice and seasoned school leaders alike.
Part One: Leadership Essentials.

1. Students Are Not Customers: The Unique Elements of Educational Leadership.

2. The Leadership Dilemma: Building Consensus or Creating Change?

3. The Leadership and Learning Matrix.

4. Leadership Matters: How Leaders Improve the Lives of Students, Staff, and Communities.

Part Two: Strategic Leadership.

5. Initiative Fatigue: When Good Intentions Fail.

6. Saving Strategic Planning from Strategic Plans.

7. Strategic Leadership in Action.

Part Three: Leadership in Action.

8. The Daily Disciplines of Leadership.

9. Accountability: From Autopsy to Physical.

10. Building the Next Generation of Leaders.

11. Conclusion: The Enduring Values of the Leader: The Key to Surviving the Disappointments and Disasters of the Leadership Life.
New introduction to the paperback edition.
"Reeves covers the daily disciplines a leader must exercise." (The School Administrator, 10/03)
A practical primer for educational leaders that shows leaders how they can have maximum impact on a daily basis. 
Provides guidelines for more effective communication, time management, and accountability.
Countains a "Leadership and Learning Matrix" to help leaders improve performance.