The Daily Show and Philosophy: Moments of Zen in the Art of Fake News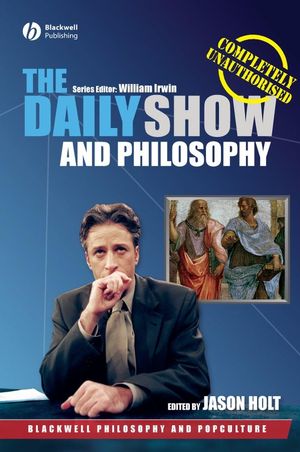 The Daily Show and Philosophy: Moments of Zen in the Art of Fake News
ISBN: 978-0-470-76613-2
Feb 2009, Wiley-Blackwell
280 pages
Description
An entertaining and insightful examination of the Emmy-award winning American satirical news show, broadcast on Comedy Central in the US, and (in an edited edition) on More4 in the UK and CNN International around the world.



Includes discussion of both The Daily Show and its spin-off show, The Colbert Report

Showcases philosophers at their best, discussing truth, knowledge, reality and the American Way

Highlights the razor sharp critical skills of Jon Stewart and his colleagues

Faces tough and surprisingly funny questions about politics, religion, and power head on
Acknowledgements.
Introduction: Great Book, or the Greatest Book?.
Segment One: Headlines: Faux News is Good News:.
1. Amusing Ourselves to Death with Television News: Jon Stewart, Neil Postman, and the Huxleyan Warning: Gerald J. Erion (Medaille College).
2. The Fake, the False, and the Fictional: The Daily Show as News Source: Michael Gettings (Hollins University).
3. The Fake News as the Fifth Estate: Rachael Sotos (New School for General Studies).
4. The Good, the Bad, and The Daily Show: Jason Zinser (Florida State University).
Segment Two: Correspondent's Report: Jon Stewart (Not Mill) as Philosopher, Sort Of:.
5. Jon Stewart and the New Public Intellectual: Terrance MacMullan (Eastern Washington University).
6. Stewart and Socrates: Speaking Truth to Power: Judith Barad (Indiana State University).
7. Can The Daily Show Save Democracy? Jon Stewart as the Gadfly of Gotham: Steven Michels and Michael Ventimiglia (Buffalo State College and Sacred Heart University).
8. Jon the Cynic: Dog Philosophy 101: Alejandro Bárcenas (University of Hawaii at Manoa).
Segment Three: Regular Feature: Critical Thinking and the War on Bullshit:.
9. Public Discourse and the Stewart Model of Critical Thinking: Roben Torosyan (Fairfield University).
10. The Daily Show's Exposé of Political Rhetoric: Liam P. Dempsey (Dalhousie University).
11. Bullshit and Political Spin: Is the Medium the Massage?: Kimberly A. Blessing and Joseph J. Marren (both Buffalo State College).
12. Bullshitting Bullshitters and the Bullshit They Say: Andrew Sneddon (University of Ottawa).
Segment Four: Interview: Religion, God, and Darwin:.
13. The Challenge of Religious Diversity in "This Week in God": Matthew S. Lopresti (Hawaii Pacific University).
14. Contingency, Irony, and "This Week in God": Brad Frazier (Lee University).
15. Evolution, Schmevolution: Jon Stewart and the Culture Wars: Massimo Pigliucci (Stony Brook University).
Segment Five: Checking in with Stephen Colbert/Your Moment of Zen: Beyond The Daily Show:.
16. America (The Book): Textbook Parody and Democratic Theory: Steve Vanderheiden (University of Minnesota Duluth).
17. The Daily Show/Colbert Report Guide to Neologizing: Jason Holt (Acadia University).
18. Truthiness, Self-Deception, and Intuitive Knowledge: Amber L. Griffioen (University of Iowa).
19. Stephen Colbert, Irony, and Speaking Truthiness to Power: Kevin S. Decker (Eastern Washington University).
Senior Philosophical Correspondents.
Index
"The Daily Show and Philosophy brilliantly shows how rabid partisanship, ineffective media, shoddy public discourse, and hyperbolic book blurbs spell doom for America."
Dave Baggett, editor of Harry Potter and Philosophy and Hitchcock and Philosophy


An entertaining and insightful examination of the Emmy-award winning American satirical news show, broadcast on Comedy Central in the US, and (in an edited edition) on More4 in the UK and CNN International around the world

Includes discussion of both The Daily Show and its spin-off show, The Colbert Report

Showcases philosophers at their best, discussing truth, knowledge, reality and the American Way

Highlights the razor sharp critical skills of Jon Stewart and his colleagues

Faces tough and surprisingly funny questions about politics, religion, and power head on