The Death of Modern Management: How to Lead in the New World Disorder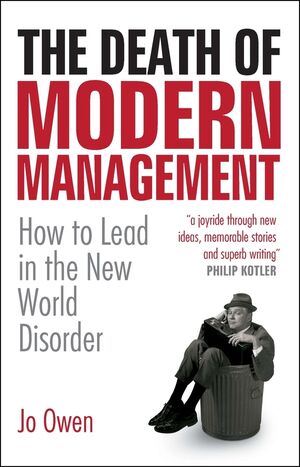 The Death of Modern Management: How to Lead in the New World Disorder
ISBN: 978-0-470-68285-2 December 2009 288 Pages
Description
We are at the start of a new wave of management. The recent financial crisis highlighted problems not just in the economic system, but also in the way that many companies are governed and managed. Now modern management has reached its end game and we approach a new era in leadership. Rather than the certainties of command and control, this new epoch will be based on co-operation and commitment. There has been a strategic revolution - instead of following the rules, we now have to make them. For some this represents great risk; for others it is an enormous opportunity.

The Death of Modern Management is a how-to guide for surviving and thriving amidst the new uncertainties of contemporary business.

"...a joyride through new ideas, memorable stories and superb writing." Philip Kotler

"Jo Owen gives a fascinating insight into how 21st century management now works.  It is helpful to have someone with his experience, intellect and vision explain the radical changes in a way that makes sense and is immediately usable."
Juliet Hope, CEO, Startup

"Jo Owen delivers a robust and wide-ranging assault on the delusions of management, strategy, finance and marketing that have created an aura of justified mistrust around the modern corporation, but does so with wit, lucidity and lots of enlivening illustrations. The answers for 21st century business are helpfully accessible."
Professor Nigel Nicholson, London Business School, author of Managing the Human Animal and Family Wars

"...offers insights that help encourage different thinking." Director Magazine
Acknowledgements
Introduction How We Got Here and Where We Are Going
Chapter 1 Strategy: From Following the Rules to Making the Rules.
Chapter 2 Marketing: From Selling Benefits to Selling Dreams.
Chapter 3 Power: Shifts to a New World Disorder.
Chapter 4 Money: From CAPM to the Road to Ruin.
Chapter 5 Information: From Deficit to Hyperinflation.
Chapter 6 Knowledge: From Ignorance to the Disintegration of the Firm.
Chapter 7 Organisations: From Compliance to Commitment.
Chapter 8 Change: Why Dinosaurs Can't Dance.
Chapter 9 Employees: From Slavery to Freedom (and Back Again).
Chapter 10 Managers: Power and Making Things Happen.
Chapter 11 Leaders: No More Heroes.
Conclusion.
Index.