The Debt-Free Millionaire: Winning Strategies to Creating Great Credit and Retiring Rich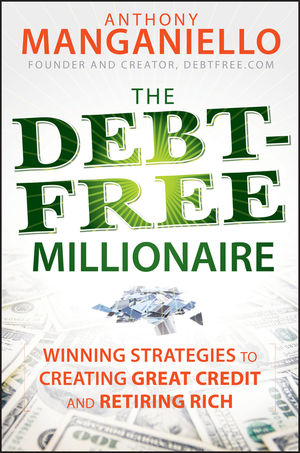 The Debt-Free Millionaire: Winning Strategies to Creating Great Credit and Retiring Rich
ISBN: 978-0-470-45576-0
Aug 2009
304 pages
Description
Praise for The Debt-Free Millionaire
"The Debt-Free Millionaire is a clarion call for a generation that was brought up on spending tomorrow's money today. As someone who spent time in the financial services industry, I can unequivocally state that Anthony's pragmatic and refreshingly contrarian approach to the real secrets of cash-flow management—and leveraging the credit system—are a breath of fresh air in a smog-choked world of misinformation and confusing financial advice.I can think of a million reasons to read it."
—Michael DiFrisco President, BrandXcellence
"Read this book. Do what it says. Start living the dream. If you're ready totake charge of your financial future, this is the place to start."
—Keith J. Cunningham Keys to the Vault & Business School for Entrepreneurs
"The Debt-Free Millionaire offers unique insights, little known strategies and easy-to-understand practical tools to first manage then eliminate debt. It is amust read for both consumers and financial professionals to better explain the often complex world of debt management. More like getting sensible advice from a good friend than a technical financial advisor."
—Roy Balfour President of Ro-Mart Inc.
"Tony has produced a clear and straightforward guide to debt, and how to eliminate it, that is as timely as it is needed. Anyone who follows the program in this book will be glad they did."
—Jeffrey K. Meek Former Vice President–Recovery Operations, WaMu Card Services
"Great for readers of all ages and in all financial stages. This isn't one of those get-rich-quick schemes. This book provides a foundation for a paradigm shift in your thinking process and allows for you to see how toachieve the seemingly unachievable. I was hooked from the beginning!"
—Jenna Keehnen Executive Director, www.USOBA.org
Foreword.
Acknowledgments.
Introduction: Setting the Stage.
Step 1: Understanding Debt and Credit.
Chapter 1 What is Debt?
Chapter 2 What Is Credit?
Step 2: Identifying Where You Are so You Can Determine How to Get to Where You Want to Go.
Chapter 3 The Cash-FLOW Analysis and Why You Need One.
Chapter 4 Doing Your Own Cash-FLOW Analysis.
Chapter 5 Inside the Numbers: Different Categories Of CFI.
Step 3: Using the Results from Step 2 to Chart Your Course towards Becoming a Debt-FREE Millionaire.
Chapter 6 A Little Deeper Inside the Numbers: Potential Credit Impact of Adequate to Healthy CFI.
Chapter 7 A Little Deeper Inside the Numbers: When Your CFI Requires Mortgage Restructuring.
Chapter 8 A Little Deeper Inside the Numbers: When Your CFI Requires Debt Management.
Chapter 9 A Little Deeper Inside the Numbers: When Your CFI Requires Debt Settlement.
Chapter 10 A Little Deeper Inside the Numbers: When Your CFI Requires Bankruptcy.
Step 4: Identifying and Defining Your Retirement Needs, and Creating a Time Line towards Achieving Them.
Chapter 11 Accumulating Wealth and Retiring Rich.
Chapter 12 It Takes Money to Make Money: Accumulating and Living Off  Your Wealth.
Step 5: Letting It All Sink In.
Chapter 13 Changing Is a Comin'.
Chapter 14 So Now What? The Debt-FREE Millionaire Action Plan.
Chapter 15 What about Our Economy?
Conclusion: The Real Identity Theft.
Appendix A: The Cash-FLOW Analysis Work Sheet.
Appendix B: Estimating Your Debt Elimination Time Frame.
Appendix C: Sample Amortization Tables.
Appendix D: Income Adjusted For Inflation.
Appendix E: Future Wealth (Nest Egg) Estimator.
Appendix F: Debt Payment Wealth Impact
Appendix G: Should I Save First?
Appendix H: Putting Your Debt-FREE Millionaire Plan on Cruise Control. 
Glossary.
Notes.
About the Author.
A Free Gift from Me to You.
Index.