The Decision-Making Inventory: Facilitator Guide Package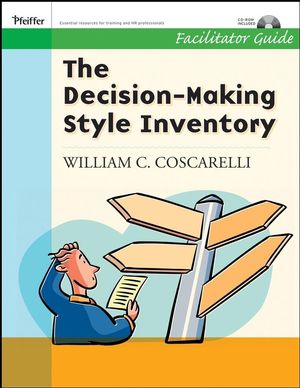 The Decision-Making Inventory: Facilitator Guide Package
ISBN: 978-0-787-99714-4
Aug 2007, Pfeiffer
128 pages
Description
Decision-making skills are mission-critical in today's competitive environment, and a prerequisite for leadership advancement. Boost them with the Decision-Making Style Inventory (DMI).

The DMI is a powerful tool for helping leaders immediately understand their decision-making style, identify potential roadblocks to career advancement, and learn more effective ways of interacting with others. This validated and reliable assessment:
Identifies an individual's decision making style preference.
Is an easy to administer, 20-item Likert assessment that takes only 10 minutes to complete and self score.
Gives advice on style effectiveness, how to communicate successfully with other styles, and style flexibility.
Can be applied in multiple areas, including leadership, career planning, communication, strategic planning, creativity, and innovation.
The Facilitator's Guide offers everything you need to successfully administer the Decision Making Style Inventory. The Guide includes the inventory's complete technical data -- validation, correlation, and reliability statistics; a section devoted to decision making theory; advice on creating action plans for developing style flexibility; and a sample of both the Decision Making Inventory and the Participant's Workbook.
ACKNOWLEDGMENTS.
PLEASE READ ME FIRST!
BACKGROUND FOR THE DECISION-MAKING STYLE INVENTORY AND WORKSHOP.
INTRODUCTION TO THE FACILITATOR GUIDE.
OVERVIEW OF DMSI THEORY.
DEVELOPMENT OF THE DECISION-MAKING STYLE THEORY.
DEVELOPMENT OF THE DECISION-MAKING STYLE INVENTORY.
ABOUT THE DECISION-MAKING STYLE INVENTORY.
ADMINISTERING AND SCORING THE INVENTORY.
PREPARING FOR A WORKSHOP SESSION.
CONDUCTING THE WORKSHOP: UNDERSTANDING UN-UNDERSTANDABLE PEOPLE.
Welcome and Objectives.
Administer the DMSI.
Introducing the Styles.
Scoring the DMSI.
Break.
Treasure Hunters and Detectives.
Implications of the Decision-Making Styles.
Strengths and Liabilities.
Putting the Styles to Use.
REFERENCES.
Appendix A: Description of the Workshop.
Appendix B: Thumbnails of Slides.
Appendix C: Instruction for Scoring the DMSI.
ABOUT THE AUTHORS.
HOW TO USE THE CD-ROM.