The Definitive Handbook of Business Continuity Management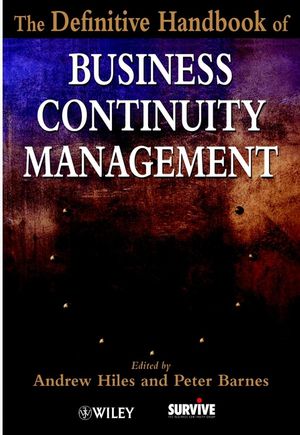 The Definitive Handbook of Business Continuity Management
ISBN: 978-0-470-86051-9 November 2000 410 Pages
Description
Hiles and Barnes provide comprehensive conceptual and practical guidance for managers and businesses who want to establish a strategy for protecting their organization from disruption and disaster.
Contributors.
Foreword and Introduction (A. Hiles).
Introduction: How to Read this Book (P. Barnes).

ACHIEVING AND MAINTAINING BUSINESS CONTINUITY: AN EXECUTIVE OVERVIEW.
What are We Planning For? (G. Vancoppenolle).
What is a Business Continuity Planning Strategy? (M. O'Hehir).

A Crisis Management Perspective of Business Continuity (R. Heath).
Multilateral Continuity Planning (D. Hamilton).
Marketing Protection: A Justification for Funding of Total Asset Protection Programmes? (A. Hiles).
Why have a Disaster if You Don't Have To? (P. Humpidge).

PLANNING FOR BUSINESS CONTINUITY: A "HOW-TO" GUIDE.
The Business Continuity Planning Methodology (M. Cornish).
Project Initiation and Management (J. Howe).
Risk Evaluation and Control: I (A. Craig).
Risk Evaluation and Control: II Practical Guide Lines for Risk Assessment (I. Charters).
Business Impact Analysis (W. Meredith).
Developing BC Strategies for the Business or Work Areas (N. Courtney).
BC Strategies for Manufacturing and Logistics (M. Musson).
BC Strategies for Communications (P. Kirvan).
Emergency Response and Operations (G. Beatty).
Developing and Implementing the Written Plan (A. Hiles).
Awareness Through Auditing, Training and Testing (T. Doemland).
Maintaining and Exercising BC Plans (T. Armit & S. Marvell).
Selecting the Tools to Support the Process (L. Bird).
Coping with People in Recovery (A. Johnson).
The Missing Elements (A. Hiles).
Appendix 1: Case Studies.

Appendix 2: General Guideline Notes.

Appendix 3: Certification Standards for Business Continuity Practitioners.

Appendix 4: Useful International Contracts.

Appendix 5: About Survive The Business Continuity Group.

Glossary.

Index.
"incredibly detailed and useful..the glossary is a real godsend for anyone new to the topic" (Justin Doherty and Jamie Ayres in ft.com, August 1999)

"excellent overview..extremely informative...this book will tell you why you need a (business continuity) plan and then helps you to put it together. Business continuity has never looked so good!" (Secure Computing, October 1999)

"extremely authoritative book...a particularly useful element...is the very comprehensive case studies appendix..in (which) over 20 actual incidents are discussed" (Security Management and Industry Today, March 2000 )