The Development of Children and Adolescents: An Applied Perspective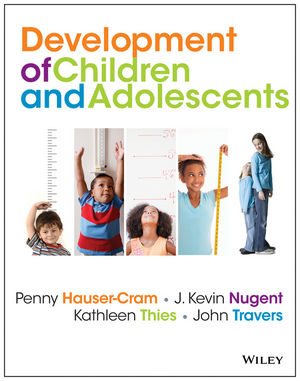 The Development of Children and Adolescents: An Applied Perspective
ISBN: 978-0-470-40540-6
Nov 2013
784 pages
Description
The Development of Children and Adolescents, by Penny Hauser-Cram, J. Kevin Nugent, Kathleen Thies, and John F. Travers, provides an integrated view of child development. Presenting the most pertinent research for each developmental stage and linking this to practical applications in the areas of Parenting, Policy, and Practice, this balanced approach emphasizes the relationship between research and theory and applications. The rich media program, including WileyPLUS with Real Development promotes active learning and allows for increased understanding and comprehension of the course content. Real Development, authored by Nicole Barnes, Ph.D., Montclair State University and Christine Hatchard, Psy.D., Monmouth University, uses authentic video showcasing real families, along with activities and assessments that put students in the place of a professional, to gain an understanding of key concepts. Through the combination of text and media, students are engaged in meaningful learning that deepens and enriches their understanding of developmental concepts.
WileyPLUS sold separately from text.
Part One - Introduction
Chapter One: A Child's Journey
Part Two - Biological Beginnings
Chapter Two: Biological Foundations of Child Development
Chapter Three: Prenatal Development
Chapter Four: Birth and the Newborn
Part Three - Infancy
Chapter Five: Physical Development and Health in Infancy and Toddlerhood
Chapter Six: Cognitive Development in Infancy
Chapter Seven: Psychosocial Development in Infancy
Part Four - Early Childhood
Chapter Eight: Physical Development and Health in Early Childhood
Chapter Nine: Cognitive Development in Early Childhood
Chapter Ten: Psychosocial Development in Early Childhood
Part Five - Middle Childhood
Chapter Eleven: Physical Development and Health in Middle Childhood
Chapter Twelve: Cognitive Development in Middle Childhood
Chapter Thirteen: Psychosocial Development in Middle Childhood
Part Six - Adolescence
Chapter Fourteen: Physical Development and Health in Adolescence
Chapter Fifteen: Cognitive Development in Adolescence
Chapter Sixteen: Psychosocial Development in Adolescence
Chapter-opening vignettes entitled Making a Difference start each chapter. Each feature describes how a particular individual or organization has worked to improve the status of children in our society in a way that reflects the content of the chapter.
Parenting, Policy, and Practice applications are integrated throughout each chapter; these applications highlight knowledge that will help students both as parents and in their chosen occupations, such as education, nursing, child care, psychology, and social work, among others.
What Happens in the Brain is a key teaching feature that helps bring neuroscience directly into the lives of readers. Visual and accessible two-page layouts appear throughout the book illustrating what happens in children's brains when they are performing everyday activities, such as reading or riding a bicycle. These layouts provide students with up-to-date, understandable information about the neural mechanisms at work in the child's developing brain.
Guided Learning System:
Chapter-opening Key Questions highlight the most important material for students to consider while reading each section.
At the conclusion of each section within a chapter, Check Your Progress questions help students check their understanding of key topics and concepts.
The Chapter Summary, which provides an integrated review of the chapter, connects the questions to the main headings.
Everyday Stories appear in each section of every chapter. These features present students with interesting real-world examples of the concepts and topics being covered.
What If…? questions ask students to think about how they would respond to various scenarios and help students to deepen and apply their understanding of developmental concepts.
Culture discussions are integrated throughout the chapters. In addition, a Culture feature in each chapter highlights both cross-cultural and multicultural examples, such as Culture and Medical Beliefs, Culture and Learning Numbers, and Culture and Showing Pride and Shame.
Focus On boxes concentrate on important individuals in child development, such as Albert Bandura and Eric Kandel.
Research Insight boxes highlight a pertinent research study, such as a study examining the question Do Violent Video Games Promote Aggression? or the question Can You Grow Your Intelligence?
Wiley's Real Development provides the basis for an active learning project at the end of each chapter. The activities focus on developing and assessing higher-order thinking skills. Students will be asked to analyze, critically evaluate, synthesize, and reflect on the information presented.