The Development of Language: Acquisition, Change, and Evolution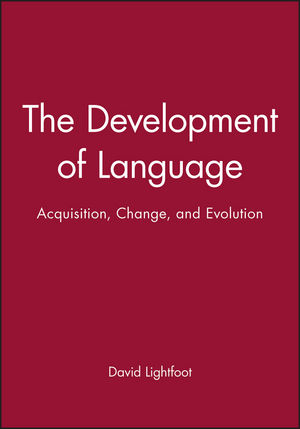 The Development of Language: Acquisition, Change, and Evolution
ISBN: 978-0-631-21060-3 January 1999 Wiley-Blackwell 300 Pages
Description
A language develops over time, it develops in a child, and the capacity for language has evolved in the human species.
Table of contents
Foreword.
Part I: Introduction:.
1. Progress or Degeneration?.
2. The Records, our Witnesses.
3. Lack of Change and Historical Explanation.
4. Our Odyssey.
Part II: The Nineteenth: Century of History:.
5. Historical Relationships.
6. Sound Change.
7. Historical Explanations.
8. Determinist Views of History.
Part III: Grammars and Language Acquisition:.
9. We Know More than we Learn.
10. The Nature of Grammars.
11. The Acquisition Problem: The Poverty of the Stimulus.
12. The Analytical Triplet.
13. Real-Time Acquisition of Grammars.
Part IV: Gradualism and Catastrophes:.
14. Grammars and Change.
15. Social Grammars.
16. Gradualism, Imagined and Real.
17. Catastrophes.
18. Competing Grammars.
19. The Spread of New Grammars.
20. Parametric Change.
Part V: The Loss of Case and its Syntactic Effects:.
21. Case.
22. Middle English Split Genitives.
23. Inherent Case and Thematic Roles in Early English.
24. The Loss and Origin of Case Systems.
Part VI: Cue-Based Acquisition and Change in Grammars:.
25. Models of Learnability.
26. Cue-Based Acquisition and Loss of Verb-Second.
27. V-to-I Raising and its Cue.
28. Creolization and Signed Languages.
Part VII: Equilibrium and Small Punctuations:.
29. Equilibrium.
30. English Auxiliary Verbs in the Eighteenth Century.
31. French chez.
Part VIII: Historicism: The Use and Abuse of Clio:.
32. Principles of History.
33. Clio Working through Biology.
34. Diachronic Reanalyses.
35. Trajectories.
Part IX: The Evolution of the Language Faculty:.
36. Bumpiness.
37. Explaining Evolution.
38. A UG Condition on Movement Traces.
39. The Condition is Maladaptive.
40. Conclusion.
Part X: A Science of History:.
41. Classical and Chaotic Views of Science.
43. History as an Epiphenomenon.
References.
Index.
Reviews
"My favourite parts were those that gave detailed explanations for learning in the context of a changing language input: how children solve the problem of an emergent syntactic property, one that doesn't appear to cohere with the rest of the system, with the result that the grammar is reorganized in the next generation."
Lila Gleitman
"David Lightfoot is addressing the core questions of the study of language: what it is, how it comes to be that way, how the child acquires it. His account is richly textured, integrating many different approaches with lucidity and insight. His analyses and conclusions are challenging and provocative, both for specialists in the particular areas he brings together, and for those seeking a clear picture of current understanding and open problems." Noam Chomsky

'There can be little question that it will represent a major work, required reading for anyone with interests in this area.' Mark Hale, Concordia University

"This book challenges conventional understanding of language learning by showing that language change is essentially contingent-unpredictable but explainable. The role of natural selection in facilitating the understanding of the evolution of the language faculty in the human species is contested." Psycholinguistics
Features
* Major theorist develops new theories of language change and language acquisition.
* Questions existing theories of the evolution of language.
* Challenges conventional understanding by showing that language change is essentially contingent.
* Offers new cue-based theory of language acquisition.