The Dictionary of Family Therapy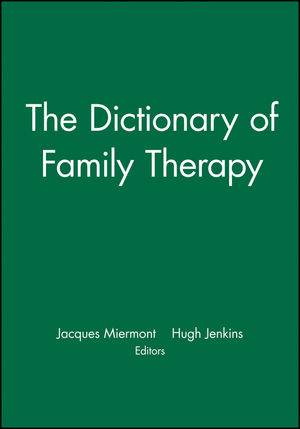 The Dictionary of Family Therapy
ISBN: 978-1-405-16608-9
Feb 2008, Wiley-Blackwell
536 pages
Description
The original French edition of this comprehensive dictionary of family therapy won the Prix de la Medicine in 1988 as the outstanding reference book of the year. This new English translation has been expanded, updated and revised by a team of international scholars under the direction of Hugh Jenkins.
List of contributors.
Acknowledgements.
Acknowledgements to the French edition.
Foreword to the French edition.
Preface to the English edition.
Preface to the French edition.
Introduction.
Dictionary Entries A-Z.
Bibliography.
Index.
"This text is useful not only to those familiar primarily with family systems but also to a multidisciplinary audience of readers. Whether the reader believes in individual or systemic pathology, general systems theory or behavioural intervention, the dictionary is useful, fair and thorough ... The dictionary can be recommended to professionals from all angles of psychotherapy and should be useful in the clinical and theoretical training of family therapists around the globe."
Contemporary Psychology
"The book covers a range of topics culled from diverse disciplines which mark out the field of interest of family therapists ... There is much clinical wisdom interwoven here together with the higher reaches of theoretical abstraction ... The original edition of this book won the Prix de la Médecine as the outstanding reference book of 1989." Times Literary Supplement
"It has an excellent biography, a full index and a sensible introduction that suggests different paths through the labyrinth ahead ... the dictionary is much needed and fills a gap." John Clay, Literary Review
Winner of the Prix de Medicine 1988, for the original edition
Incorporates current continental thinking on family therapy
Has both a clinical and a theoretical perspective
Has numerous additional entries in this revised and enlarged English edition.