The Dictionary of Human Geography, 5th Edition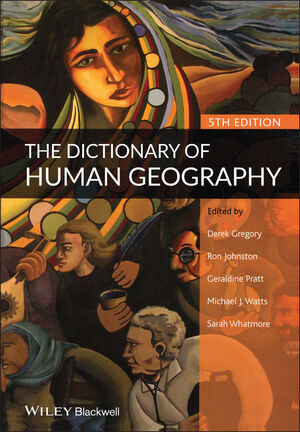 The Dictionary of Human Geography, 5th Edition
ISBN: 978-1-444-35995-4 September 2011 Wiley-Blackwell 1072 Pages
Description
With clear, critical, and constructive surveys of key terms by leading researchers in the field,
The Dictionary of Human Geography
, fifth edition, remains the definitive guide to the concepts and debates in human geography.
Comprehensively revised new edition of a highly successful text with over 300 key terms appearing for the first time

Situates Human Geography within the humanities, social sciences and sciences as a whole

Written by leading experts in the field

Major entries not only describe the development of concepts, contributions and debates in Human Geography but also advance them

Features a new consolidated bibliography along with a detailed index and systematic cross-referencing of headwords
Table of contents
Preface to the Fifth Edition.
How to Use this Dictionary.
Acknowledgements.
List of Contributors.
The Dictionary.
Index
New To This Edition
Comprehensively revised to reflect the changing nature and practice of human geography and its rapidly developing connections with other fields.
Entries from many new contributors at the forefront of developments in the field
Addresses human geography's relation to the discipline at large (geography, physical geography, and biogeography) and the dialogue between human geography and the humanities and social sciences (international relations, literature, philosophy, social theory) 
Traces the conceptual and cultural formation of major world regions: Africa; Americas; Asia; Australasia; Europe; Latin America; the Middle East; and the Global South
Expands the coverage of vital geo-political and geo-economic issues including American Empire, Asylum, Ethnic Cleansing, Cold War, Genocide, Human Rights, International Monetary Fund, Just War, Narco-Capitalism, Terrorism, Petro-Capitalism, Urbicide, War, World Social Forum
Strengthens human geography's involvement in ecological and environmental issues , including biodiversity, bio security, climate, global warming, sustainability, tropicality, urban nature, and water
Incorporates the latest theoretical developments across the field of the humanities and social sciences: affect; complexity theory; non-representational theory; post humanism; and spaces of exception
review the latest methodological developments (digital cartography, geographical information science, methodology, software for quantitative and qualitative analysis, visual methods)
For the first time, a consolidated bibliography is included at the end of the Dictionary rather than scattered across individual entries - an invaluable resource in its own right for anyone conducting  a bibliographic search - and this, together with the detailed index and the systematic cross-referencing of headwords, provides a crucial second architecture for the primary, alphabetical ordering of the Dictionary.
Reviews
"This consolidated bibliography is new to this edition; it saves space by avoiding repetition of titles and also provides a useful resource in its own right". (Reference Reviews, 2010)
Reviews of Previous Editions:
"The definitions are of a particularly high standard." (Geography)
"The Dictionary is the best compendium of human geography of today. It is a book to which I shall turn again and again, and can only recommend my colleagues to do likewise." (Tijdschrift voor Econ. en Soc. Geografie)
"An invaluable student guide." (Endeavour)
"As a student's companion it could hardly be bettered." (Times Educational Supplement)
"Very highly recommended." (American Library Association)
"The best single-volume reference to the field of human geography. In paper, it is quite a bargain and clearly a necessary addition to the bookshelves of students and professionals alike." (Environmental Planning)
"The Dictionary remains the best single-volume reference to the field of human geography. In paper, it is quite a bargain and clearly a necessary addition to the bookshelves of students and professionals alike." (Geography)
"This is easily the best dictionary of human geography in print." (Progress in Human Geography)
"This dictionary is an essential companion for anyone studying human geography and it is a bargain. Buy it immediately!" (Reference Reviews)
"I could quite happily spend hours reading the Dictionary of Human Geography ... It is, quite simply, an integral part of my being a geographer, and has been since my earliest undergraduate days." (Scottish Geographical Journal)
Features
Comprehensively revised new edition of a highly successful text providing a guide to issues and ideas, methods and theories in human geography
Situates human geography within the humanities, social sciences, and sciences as a whole
Reflects the changing nature and practice of human geography and its rapidly developing connections with other fields
Written by leading experts in the field
Major entries not only describe the development of concepts, contributions, and debates in human geography but also advance them
A consolidated Bibliography provides convenient access to key works by major figures in the field