The Diversity of Fishes: Biology, Evolution, and Ecology, 2nd Edition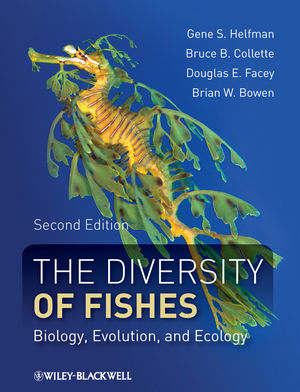 The Diversity of Fishes: Biology, Evolution, and Ecology, 2nd Edition
ISBN: 978-1-405-12494-2 May 2009 Wiley-Blackwell 736 Pages
Description
The second edition of The Diversity of Fishes represents a major revision of the world's most widely adopted ichthyology textbook. Expanded and updated, the second edition is illustrated throughout with striking color photographs depicting the spectacular evolutionary adaptations of the most ecologically and taxonomically diverse vertebrate group. The text incorporates the latest advances in the biology of fishes, covering taxonomy, anatomy, physiology, biogeography, ecology, and behavior. A new chapter on genetics and molecular ecology of fishes has been added, and conservation is emphasized throughout. Hundreds of new and redrawn illustrations augment readable text, and every chapter has been revised to reflect the discoveries and greater understanding achieved during the past decade. Written by a team of internationally-recognized authorities, the first edition of The Diversity of Fishes was received with enthusiasm and praise, and incorporated into ichthyology and fish biology classes around the globe, at both undergraduate and postgraduate levels. The second edition is a substantial update of an already classic reference and text.

Companion resources site

This book is accompanied by a resources site:

The site is being constantly updated by the author team and provides:

·         Related videos selected by the authors

·         Updates to the book since publication

·         Instructor resources

·         A chance to send in feedback

 
Buy Both and Save 25%!
Original Price:$631.95
Purchased together:$473.96
save $157.99
Cannot be combined with any other offers.
Preface.
Part I Introduction.
1 The science of ichthyology.
2 Systematic procedures.
Part II Form, Function, and Ontogeny.
3 Skeleton, skin, and scales.
4 Soft anatomy.
5 Oxygen, metabolism, and energetics.
6 Sensory Systems.
7 Homeostasis.
8 Functional morphology of locomotion and feeding.
9 Early life history.
10 Juveniles, adults, age, and growth.
Part III Taxonomy, Phylogeny, and Evolution.
11 A history of fishes.
12 Chondrichthyes: Sharks, skates, rays, and chimaeras.
13 Living representatives of primitive fishes.
14 Teleosts at last I: bonytongues through anglerfishes.
15 Teleosts at last II: spiny-rayed fishes.
Part IV Zoogeography, Habitats, and Adaptations.
16 Zoogeography.
17 Fish genetics.
18 Special habitats and special adaptations.
Part V Behavior and Ecology.
19 Fishes as predators.
20 Fishes as prey.
21 Fishes as social animals: reproduction.
22 Fishes as social animals: aggregation, aggression, and cooperation.
23 Cycles of activity and behavior.
24 Individuals, populations, and assemblages.
25 Communities, ecosystems, and the functional role ofn fishes.
Part VI The Future of Fishes.
26 Conservation.
References.
Index
Illustrated throughout with striking color photographs depicting the spectacular evolutionary adaptations of the most ecologically and taxonomically diverse vertebrate group

Incorporates the latest advances in the biology of fishes, covering taxonomy, anatomy, physiology, biogeography, ecology, and behavior

A new chapter on genetics and molecular ecology of fishes has been added, and conservation is emphasized throughout

Hundreds of new and redrawn illustrations augment readable text, and every chapter has been revised to reflect the discoveries and greater understanding achieved during the past decade
"This new edition of the Diversity of Fishes, with its comprehensive view of fish biology sensu latu, should be welcomed by teachers, students, and professional ichthyologists. The book, with its colored photographs and good drawings, is attractive; the errors are few; the authors are authoritative; the index is informative; and the content has been brought up to date." (
Environmental Biology of Fishes,
October 2010)
"Overall, The Diversity of Fishes is, in our opinion, the best current single-volume reference for teaching students about fishes, and if we had to condense our ichthyological libraries to just one book, at the moment this would certainly be it." (Copeia, 2010)
"The book combines broad and comprehensive coverage with quite a lot of detail about the different themes that are dealt with ... .I heartily recommend the second edition of The Diversity of Fishes, both as a student textbook and as an introductory, general source of reference." (Aquaculture International, May 2009)
New edition of the best-known ichthyology text in the world, maintaining its emphasis on evolutionary biology and diversity.

Fully updated throughout, with expanded coverage of molecular biology and genetics.

Beautifully redesigned with new, full colour artwork throughout.