The Divine Attributes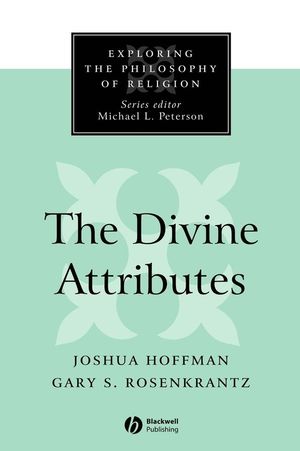 The Divine Attributes
ISBN: 978-0-631-21154-9 June 2002 Wiley-Blackwell 220 Pages
Description
The Divine Attributesis an engaging analysis of the God of Judaism, Christianity, and Islam from the perspective of rational theology.
Series Editor's Preface.
Acknowledgments.
Authors' Note.
Introduction to Rational Theology.
1. The Idea of God.
Historical Conceptions of the Divine.
God as a Maximally Great Being.
2. Substantiality.
Substance Among Other Categories.
Substance and Independence.
Spinoza's Divine Substance.
3. Incorporeality.
Spirituality and Omnipresence.
Are Souls Unintelligible?.
Is Body-Soul Interaction Unintelligible?.
Divine Simplicity.
4. Necessary Existence.
Necessity and Contingency.
Necessary Beings and Contingent Beings.
Modalities and Possible Worlds.
Necessary Beings versus Self-Existent Beings.
5. Eternality.
Temporal versus Atemporal Eternality.
A Defense of Temporal Eternality.
Incorruptibility versus Immutability.
6. Omniscience.
Omniscience as Maximal Knowledge.
The Analysis of Omniscience.
Divine Foreknowledge and Human Freedom.
7. Perfect Goodness, Perfect Virtue, and Moral Admirability.
God and the Nature of Morality.
Perfect Goodness and Consequences.
Perfect Virtue and Moral Rules.
Maximal Greatness and Moral Admirability.
8. Omnipotence.
Maximal Power and the Uniqueness of God.
What an Omnipotent Agent Can Do.
The Analysis of Omnipotence.
Divine Omnibenevolence, Omnipotence, and Freedom.
Concluding Remarks and Prolegomena to Future Rational Theology.
Glossary.
Index.
"Intellectually rigorous, yet written with great clarity, this book enables the reader to understand the attributes; omnipotence, omniscience, perfect goodness, eternality, etc. – that make up the dominant idea of God in Western civilization. Highly recommended!"
William L. Rowe, Purdue University
<!--end-->
"This is a masterly exercise in rational theology by two leading metaphysicians. Their rigorous approach and skilful application of recent developments in analytical metaphysics make this book at once authoritative, lucid, and compelling. As well as being an extremely valuable resource for students and teachers of philosophy and theology, it advances contemporary debate about the proper understanding of God's nature in important and interesting new ways." E. J. Lowe, University of Durham

"This book is excellent: thoughtful, rigorous, and systematic. In addition to being a penetrating and sophisticated work, it is also highly readable." John Fischer, University of California at Riverside


Analyzes the God of Judaism, Christianity, and Islam from the perspective of rational theology


Rationally explores the nature of God, differentiates the idea of God from other historical ideas of the divine, and identifies the core qualities of a maximally great, or perfect, being


Discusses the fundamental divine attributes, such as divine power, knowledge, and goodness


Addresses whether God is to be understood as eternal, within or outside of time, existing necessarily or contingently, and a physical or a spiritual substance