The Dragons' Den Guide to Assessing Your Business Concept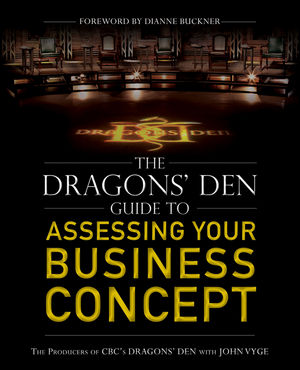 The Dragons' Den Guide to Assessing Your Business Concept
ISBN: 978-1-118-31386-2
Jul 2012
336 pages
Description
How to assess your business concept's potential to win customers
The Dragons' Den Guide to Assessing Your Business Concept is designed to help entrepreneurs assess whether they actually have a market for their business concept. Before anyone invests valuable time and resources to a slow-growth or no-growth business idea, this step-by-step approach will allow entrepreneurs to test an idea in an unflinching, reality-based way. Case studies sourced from Canada and the US and stories from entrepreneurs who appeared on the Dragons' Den TV show, where entrepreneurs pitch their ideas to millionaires willing to invest their cash, will illustrate the key ideas and themes.
Helps entrepreneurs face reality before they let their dreams lead them into a losing battle for market share
Encourages readers to focus heavily on assessing their market first, before they invest valuable time and resources in a slow-growth or no-growth business idea
Prepare yourself to do battle in a difficult marketplace. Assess your potential customers and measure your concept against reality. The Dragon's Den Guide shows you the way.
Foreword ix
Part I: Th e DNA of Your Business Concept 1
Chapter 1: Why Would the World Care About Your Idea? 3
The Warm-Up: Singular Pain Point Defined 5
Chapter 2: Build an Evolutionary Prototype 14
The Warm-Up: Evolutionary Prototype Defined 16
Chapter 3: Defi ne the Value Proposition 23
The Warm-Up: Value Proposition Defined 25
Chapter 4: How Are You Going to Make Money? 33
The Warm-Up: Revenue Model Defined 35
Chapter 5: Who Is the Ideal Customer for Your Product or Service? 44
The Warm-Up: Market Segment Defined 46
Chapter 6: Build a Lean Feature Set 53
The Warm-Up: Lean Feature Set Defined 55
Chapter 7: Who Can Help You Reach Your Goals Faster? 62
The Warm-Up: Collaboration Defined 64
Chapter 8: How Can You Trigger a Sudden Increase in Sales? 72
The Warm-Up: Catalyst Defined 74
Chapter 9: Is Your Business Idea Scalable? 81
The Warm-Up: Scalability Defined 83
Chapter 10: Do You Have a Sustainable Money-Making System? 90
The Warm-Up: Business Model Defined 91
Part II: Th e Feasibility Study 101
Chapter 11: What Do You Bring to the Table? 103
The Warm-Up: Self-Assessment Defined 105
Chapter 12: Why Will Your Business Succeed? 118
The Warm-Up: Business Case Defined 120
Business Case: Why Do You Feel that You Have a Winning Business Idea? 120
Chapter 13: Is Your Idea Technically and Financially Feasible? 126
The Warm-Up: Feasibility Study Defined 128
The Feasibility Study 128
Part III: The Product Roadmap 135
Chapter 14: Managing Your Product Roadmap 137
The Warm-Up: Product Roadmap Defined 139
Chapter 15: What Is the Story Behind Your Concept? 146
The Warm-Up: Storytelling Defined 148
Chapter 16: What Do You Want Your Business to Be Known for? 154
The Warm-Up: Branding Defined 156
Chapter 17: What Product Will Customers Be Willing to Pay You for? 164
The Warm-Up: Product Defi nition Defined 166
Chapter 18: Should I Buy or Build My Product? 174
Warm-Up: Product Development Defined 176
Part IV: Defining Your Market 185
Chapter 19: Th e Business Cycle 187
A Top-Down Approach to Researching Your Market 189
The Warm-Up: Th e Business Cycle Defined 190
Chapter 20: Industry Analysis 196
The Warm-Up: Industry Analysis Defined 198
Chapter 21: Th e Competitive Landscape 207
The Warm-Up: Th e Competitive Landscape Defined 209
Chapter 22: Target Market Analysis 216
The Warm-Up: Target Market Analysis Defined 218
Part V: Go-to-Market Strategy 227
Chapter 23: How Do You Plan to Launch Your Business? 229
The Warm-Up: Go-to-Market Defined 232
Chapter 24: Where Will You Sell Your Products and Services? 239
The Warm-Up: Distribution Channels Defined 241
Chapter 25: What Partners Can Help You Go-to-Market Faster? 251
The Warm-Up: Strategic Relationships Defined 253
Chapter 26: How Will You Get the Word Out? 261
The Warm-Up: Marketing Program Defined 263
Chapter 27: How Will You Generate Sales? 273
The Warm-Up: Sales Process Defined 276
Chapter 28: What Proof Do You Have That Your Business Model Works? 283
The Warm-Up: Proof-of-Concept Defined 285
Conclusion 292
Glossary 296
Endnotes 305
Acknowledgements 311
About the Author 312
Index 313
Looking for More? 325