The Drucker Foundation , The Organization of the Future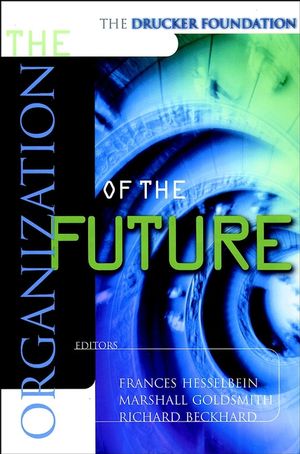 The Drucker Foundation , The Organization of the Future
ISBN: 978-0-787-95203-7
Feb 2000
399 pages
Description
"This is a treasure-trove of some of the best thinking today on leadership, management, and strategy."

--Journal of Management Consulting

"The Organization of the Future is required reading.... If you don't use this book to help guide your organization through the changes, you may well be left behind."

--Nonprofit World

What do employees expect from the organizations they support? How can organizations maintain stability in times of massive change? These are the questions modern organizations face as they struggle to grow and evolve. The Organization of the Future offers timeless responses from such leading authorities as Peter F. Drucker, C.K. Prahalad, Nathaniel Branden, Lewis E. Platt, Rosabeth Moss Kanter, Jay R. Galbraith, and Deepak Sethi. Their incisive essays reveal:
* How to build "know-how" and "know-who" to develop successful teams
* How to prepare for "breakdowns" and create the nimble, change-adept company
* How to attract, motivate, and retain the best employees
* How seven basic policies can lead to high performance and high self-esteem
* How to support work-life balance and provide flexibility for knowledge workers
Each essay provides observations that will help leaders in business, nonprofits, and government keep their organizations healthy, competitive, and poised for the future.
Introduction: Toward the New Organization Peter F. Drucker
Part I: Shaping Tomorrow's Organizations
1. Preparing for Organizational Change James A. Champy
2. How Generational Shifts Will Transform Organizational Life Jay A. Conger
3. The Soul of the New Organization Michael Hammer
4. The "Big" Organization of the Future Ric Ducques, Paul Gaske
5. Will the Organization of the Future Make the Mistakes of the Past? Jeffrey Pfeffer
6. Designing for Implementability Orit Gadiesh, Scott Olivet
7. New Competencies for a New World Iain Somerville, John Edwin Mroz
Part II: New Models for Working and Organizing
8. The Circular Organization Frances Hesselbein
9. The Reconfigurable Organization Jay R. Galbraith
10. The Organization's New Clothes Ron Ashkenas
11. The Mondragon Model: A New Pathway for the Twenty-First Century Joel A. Barker
12. The Future Organization: A Chameleon in All Its Glory Doug Miller
13. Creating a Leadership Organization with a Learning Mission Glenn R. Jones
Part III: Organizing for Strategic Advantage
14. Restoring People to the Heart of the Organization of the Future Rosabeth Moss Kanter
15. Competitiveness and Civic Character Philip Kotler
16. The Work of New Age Manners in the Emerging Competitive Landscape C.K. Prahalad
17. Organizing for Endless Winning Martin E. Hanaka, Bill Hawkins
18. Creating Sustainable Learning Communities for the Twenty-First Century Stephanie Pace Marshall
19. Organizing Around Capabilities Dave Ulrich
Part IV: Working and Organizing in a Wired World
20. Human Capital in the Digital Economy Anthony F. Smith, Tim Kelly
21. Shock Waves from the Communications Revolution Edward D. Miller
22. Self-Esteem in the Information Age Nathaniel Branden
23. The Seven R's of Self-Esteem Deepak Sethi
24. Future Present Frederick G. Harmon
Part V: Leading People in the Organization of the Future
25. Passing the Baton: Preparing Tomorrow's Leaders James G. Brocksmith Jr.
26. Retaining Your Top Performers Marshall Goldsmith
27. Situational Leadership in the Multicultural Organization Paul Hersey, Dewey E. Johnson
28. Emotions, Tempo, and Timing in Managing People Pierre J. Everaert
29. Leading Across Cultures: Five Vital Capabilities John Alexander, Meena S. Wilson
30. Cultivating Inner Resources for Leadership Diana Chapman Walsh
31. Learning to Lead Robert H. Rosen
Part VI: New Definitions of Organizational Health
32. Employee Work-Life Balance: The Competitive Advantage Lewis E. Platt
33. The Healthy Organization: A Profile Richard Beckhard
34. Diversity and Organizations of the Future R. Roosevelt Thomas Jr.
35. Producing Social Results Greg Parston
36. The Voluntary Health Organization of the Future John R. Seffrin
37. Building a Healthy Company--For the Long Term A.W. Dahlberg, David W. Connell, Jennifer Landrum
38. The Next Challenge Chris Argyris
The Last Word
Unimagined Futures Charles Handy
"The Organization of the Future is required reading.... If you don't use this book to help guide your organization through the changes, you may well be left behind." -Nonprofit World

"A book to visit occasionally for something new to stretch our understanding, to think about, and to integrate into our work.... This is a treasure-trove of some of the best thinking today on leadership, management, and strategy. If we use it as a self-paced seminar on how to advise, create, and lead the organizations of our future, we will be better equipped by far than most of our competitors." -Journal of Management Consulting

"Editors Hesselbein, Goldsmith, and Beckhard have brought together the latest views of noted experts about the future of human enterprise in the Peter Drucker context of government, business, and community.... This volume is highly recommended for organizational executives, academics, and advanced students of management." -Choice

"If you're interested in what tomorrow's organizations will look like and what challenges our business leaders will face, this book is a must read. Anyone seeking a glimpse of the future will find this collection informative and thought-provoking." -Personnel Psychology

"Avoiding platitudes, these wide-ranging essays provide a wealth of innovative thinking on leadership and management strategy." -Publisher's Weekly