The Dynamic Enterprise: Tools for Turning Chaos into Strategy and Strategy into Action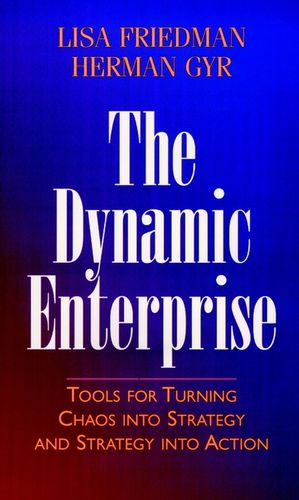 The Dynamic Enterprise: Tools for Turning Chaos into Strategy and Strategy into Action
ISBN: 978-0-787-91014-3
Nov 1997, Jossey-Bass
288 pages
Description
Here, authors Lisa Friedman and Herman Gyr, internationally respected organizational change consultants, define the Dynamic Enterprise as one whose people can look into the future, see the big picture, and create the right changes.

Friedman and Gyr describe how the Dynamic Enterprise empowers its people to build clear, collaborative strategies and translate them into action. And they present tools and strategies for making critical decisions in the midst of chaos, as well as for creating an environment that enables people to effect coordinated change at every organizational level.

This comprehensive guide presents a compelling, integrated change model--The Enterprise Development framework--that can be used with a wide range of change initiatives such as strategic business planning, organization, redesign, new technology integration, culture change, team building, and leadership development.

The Dynamic Enterprise offers common-sense models and specific guidance that leaders, managers, change agents, and other stakeholders can use to move their companies forward. It gives everyone in an organization the means to communicate effectively with one another, clarify their positions, and reach agreement on the organization's current state and future direction. Using this book, people in business can redesign their work to create a future they all believe in.
PrefaceThe AuthorsPrologue: The Gift of Perspective
Part One: Facing Chaos
1. Exponential Change and the New Business Environment
2. Leveraging Chaos: The Dynamic Enterprise
Part Two: From Chaos to Strategy
3. An Overview of Enterprise Development
4. Seeing the Whole: The Enterprise as a Dynamic System
5. Creating a Shared Vision of the Future Enterprise
6. Understanding the Past, the Present, and the Change Required
7. Understanding the Nature of Change: Business and Organizational Life Cycles
8. Mobilizing the Three Essential Drivers for Change
Part Three: From Strategy to Performance
9. Creating the Enterprise Development Workplan
"Compelling, thoughtful, and pragmatic, The Dynamic Enterprise offers a holistic and integrated approach to organizational change. A must read for any leader intent on building a successful enterprise." --Ian Dean, director, Groman Consulting Group, South Africa

"Thriving in our ever-changing world requires clear thinking and a team focus. Friedman and Gyr provide tools based on practical experiences to help executives and change agents rise to the challenge of creating organizations that are responsive to and capitalize on change." --Wayne Moon, chairman and CEO, Blue Shield of California

"The Dynamic Enterprise convinced me that everyone in the company needs a working knowledge of strategy and change?and that they can get it." --Cheryl Van, vice president, human resources, Visa International

"The Enterprise Development Framework explained in this book was the key tool we used in driving our company to the highest level of organizational excellence so far attained in the corporation's worldwide Signature of Quality Program. It is comprehensive yet simple to use and will make a significant difference in any organization." --Godofredo R. Rodriguez, president and managing director, Johnson & Johnson, Philippines

"People are the drivers of today's competitive business advantages. Like never before, organizations need human resource leaders to formulate and communicate clear meaning and direction in a changing workplace. The Dynamic Enterprise is a guide for turning uncertainty into strategic success." --Michael R. Losey, president and CEO, Society for Human Resource Management

"The Dynamic Enterprise is full of simple yet powerful tools for thriving and growing in today's global business environment?particularly useful for those working on making a fundamental strategic shift." --J. S. Leggate, business unit leader, Sector North Sea, British Petroleum Exploration